Looking for the perfect luxury escape from Edinburgh? Whether you fancy a stay on a working farm, accommodation in the Pentlands, are looking for a romantic luxury lodge with a hot tub, or a hideaway for two complete with your own wood fired sauna… welcome to Eastside Cottages, where wellies and wellness, walking sticks and long walks are a very welcome part of life. Let's check in.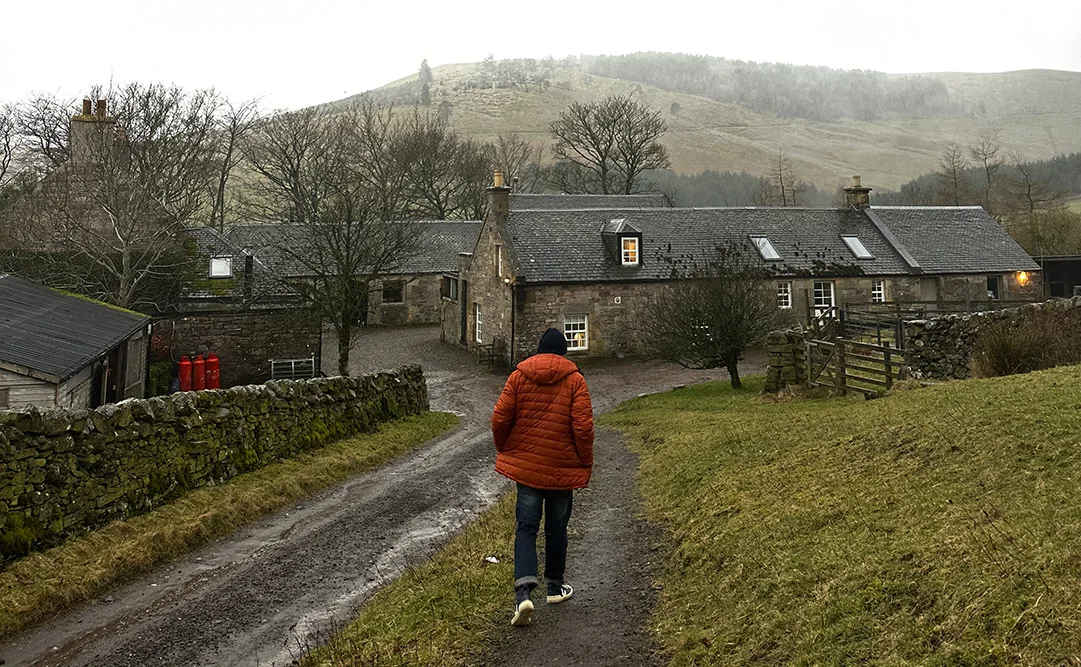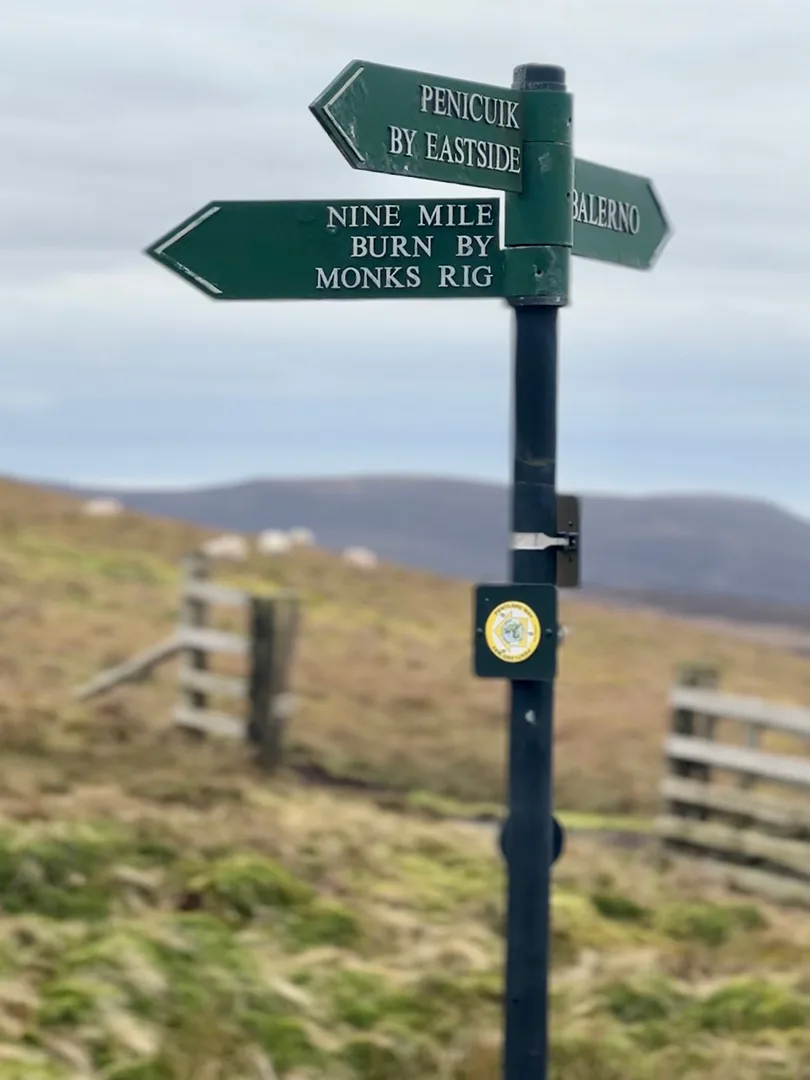 Welcome to Eastside Cottages – luxury farm stays near Edinburgh
Driving down the scenic A702 from Edinburgh is usually reserved for journeys to the M74 and all places south, skipping quickly past the pretty cottages and villages that hug the road beneath the Pentland Hills as you swoosh down to the Scottish Borders.
Instead, just 7 miles outside of the city, hidden beneath the peaks of the Pentlands – the shapely Kips and towering Scald Law – is Eastside, a working free-range Scottish Blackface sheep farm which has been in the Cowan family since 1850.
Along with looking after 3000 acres of the beautiful, dramatic hills and valleys of the Pentland Hills Regional Park, Eastside is home to five luxurious self-catering holiday cottages, perfectly located for exploring the surrounding hills or making forages into the bright lights of nearby Edinburgh.
So turn off the A702 towards the hills and 1 mile up the farm track you will find Eastside. Choose from one of three architectural gems – the Cartshed and the Wash House and over the valley, the Westside Woodshed, which are perfect for couples – and for families and groups (and muddy pups) the Steading Cottage and Byre Cottage.
Across the farm, Eastside Cottages can accommodate 12 if you want to bring the whole family!
Book: Byre Cottage (2 bedroom), the Cart Shed (couples), the Steading (2 beds), and the Westside Woodshed (couples)
Stay at Eastside Cottages near Edinburgh
You have five cottages at Eastside to choose from:
The Washhouse and the Cartshed – Eastside Cottages for two
Romantic bolthole hunters, the Washhouse and the Cartshed are for you. Perfectly formed inside the farm's steading, these two Eastside cottages have been imaginatively designed to be perfect spaces for a romantic retreat – away from kids and pups! With sharp interior lines, dramatic use of colour, gorgeous wood notes, and huge windows framing the gardens and hills beyond, both cottages offer style and substance.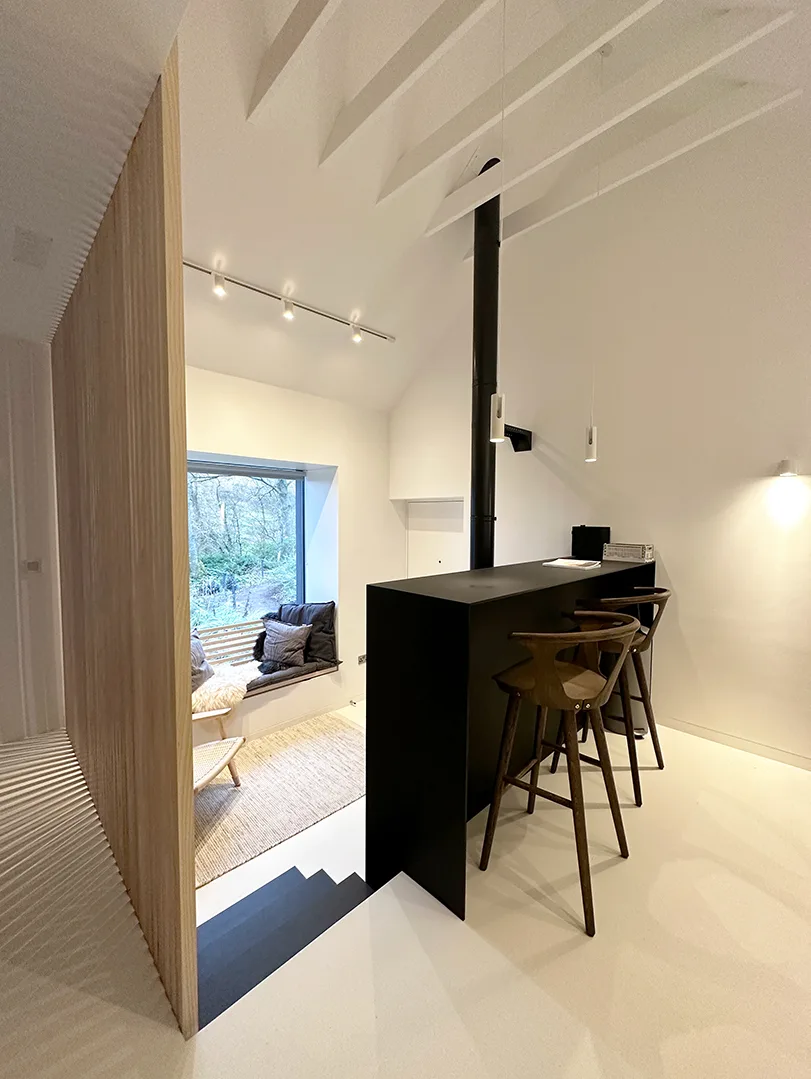 With a split level layout, the cottages each have a double bedroom with crisp cotton Bedfolk sheets, and linens, a luxury bathroom with a rain shower, a full kitchen and dining space (the Washhouse has a breakfast bar, the Cartshed a dining table) and a cosy living space with a window seat and comfy armchair, a toasty wood burning stove and internet TV hidden away if you really need it. There is luxurious underfloor heating throughout.
The Cartshed also has a space in the loft for stargazing or reading – there are lovely books provided in each cottage. Both cottages also have access to Eastside's own farm wellness spa, including sauna yurt and plunge pool.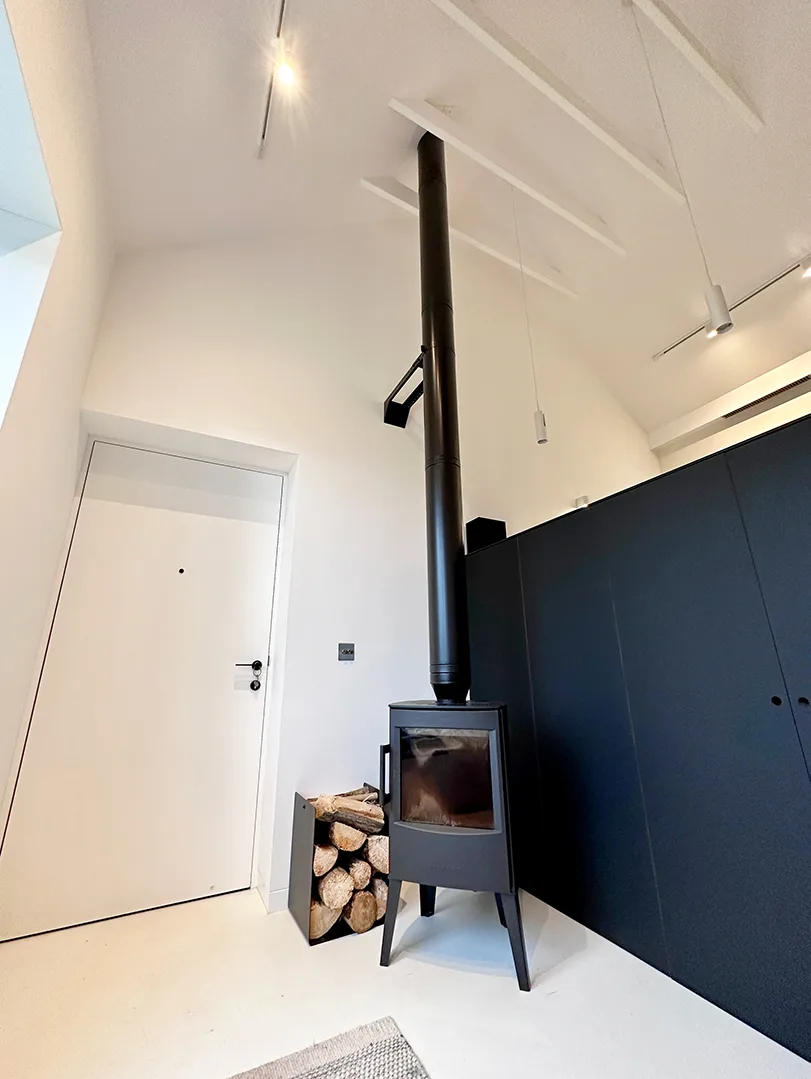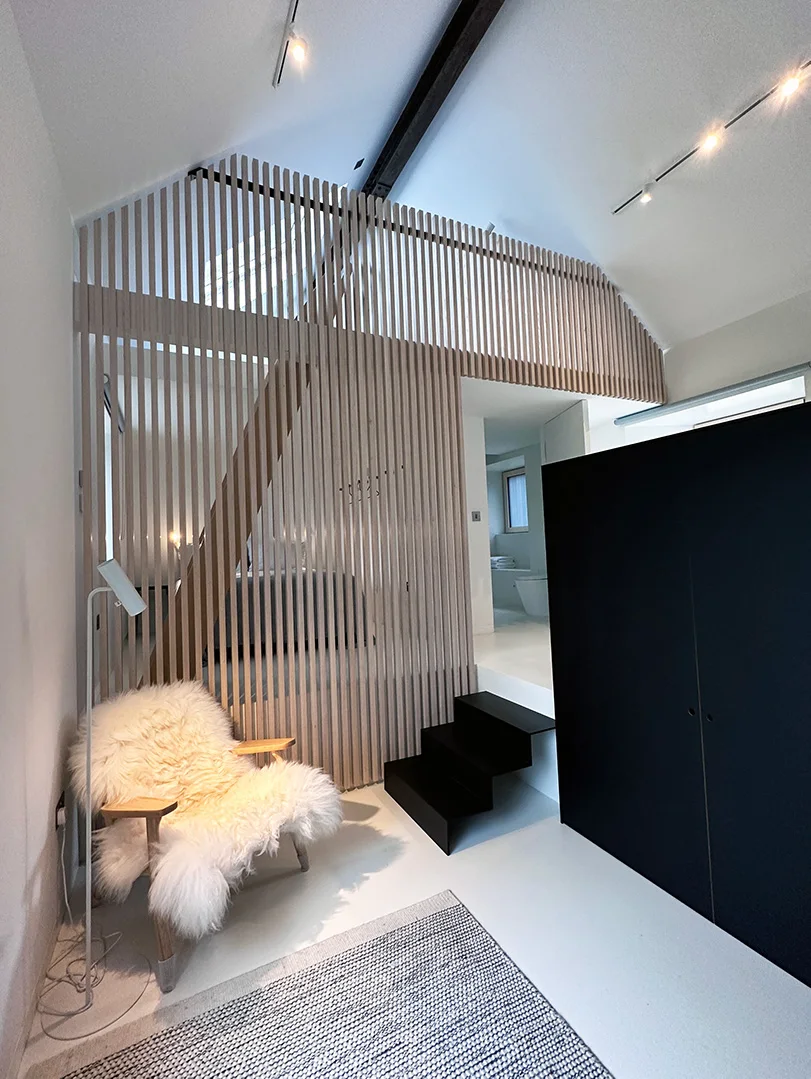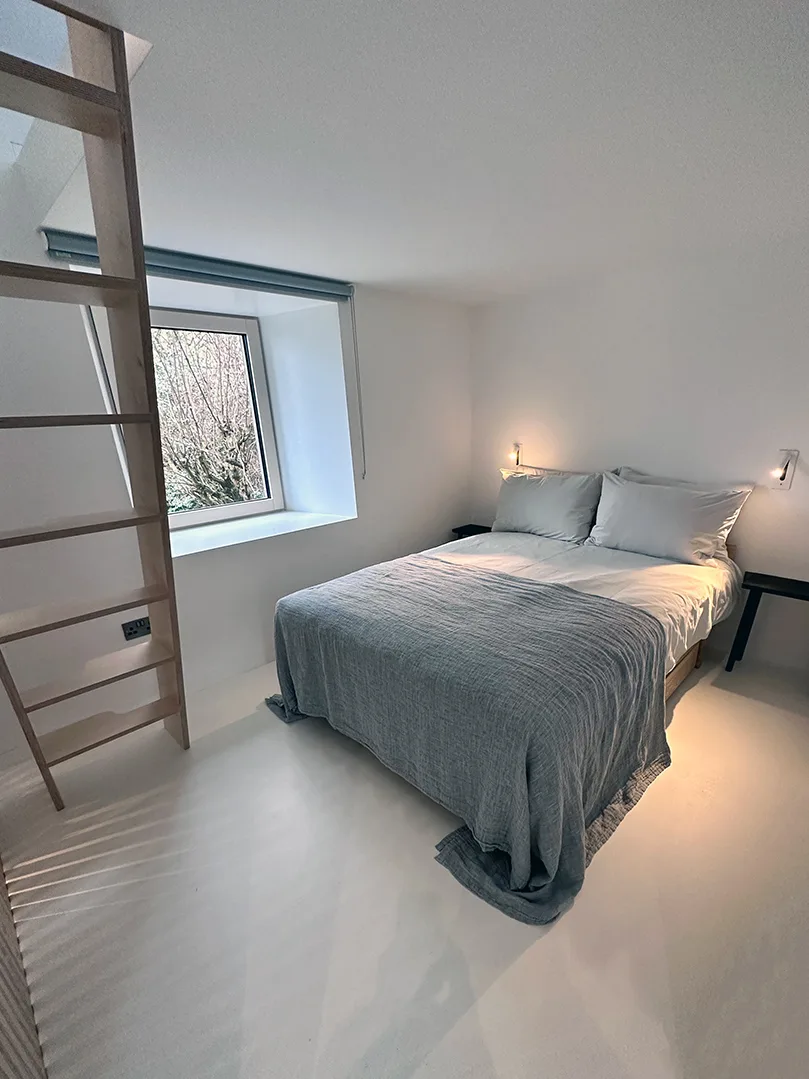 The Westside Woodshed, a scandi luxury cottage with hot tub near Edinburgh
The Westside Woodshed is an incredibly stylish Scandi-inspired cottage for two hidden amongst the trees on the west side of Eastfield Farm. This silver-clad timber cottage nestles in its own country garden, with views out over the hills – and from its own wood fired hot tub.
Inside, the a double height, airy space, is designed for privacy and views. The Woodshed offers up everything you need for an Edinburgh self catering break, with a full kitchen/dining space complete with all those things you forget (organic oil, good coffee) and plenty of logs for the wood burner, alongside underfloor heating and eco-friendly design.
Upstairs in the Woodshed's mezzanine is a stylish bathroom and a double bed overlooking the moors and heather clad hills of the farm. Outside, chicken stroll past your door – and beyond is your wood-fired hot tub – perfect for stargazing the night away.
The woodshed has been the recipient of many architectural awards, but the space is cosy with a welcoming retro style – I love the cottage's gorgeous velvet cushions inspired by the moody coastal landscapes in the Scottish Highlands – flip them upside down and they reflect the Pentlands Hills outside your door… All that's left to do is relax. Or maybe take a hike up into the hills.
> Book the Westside Woodshed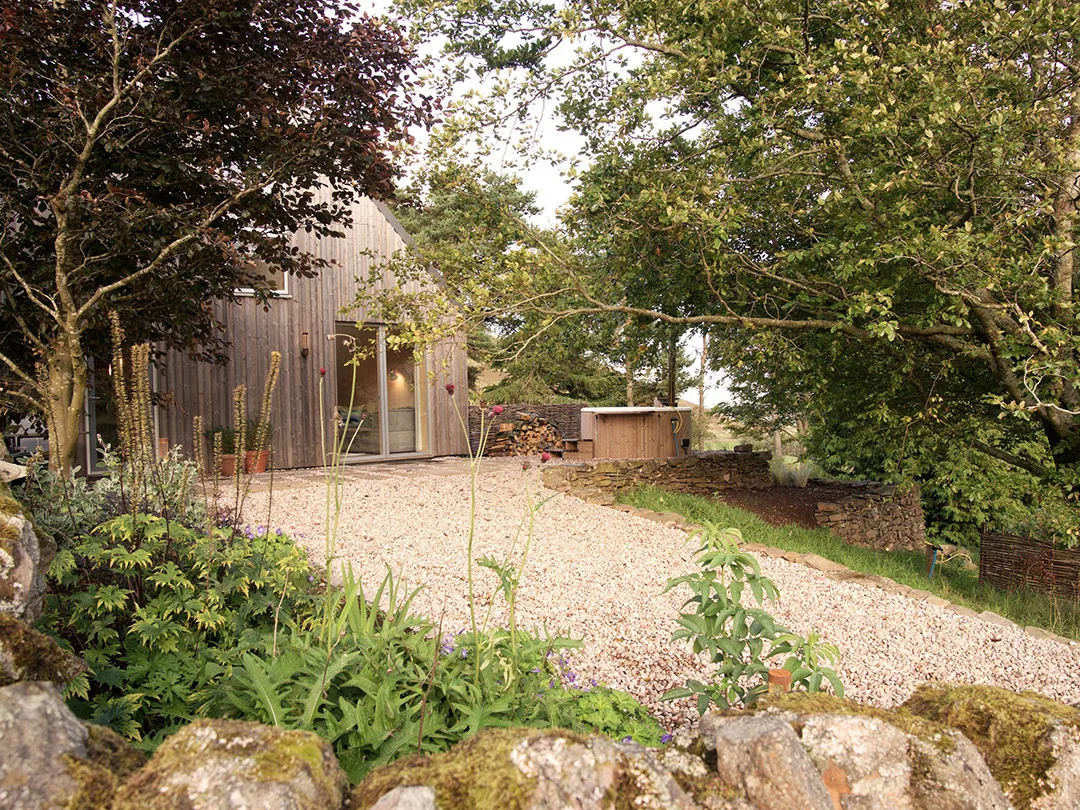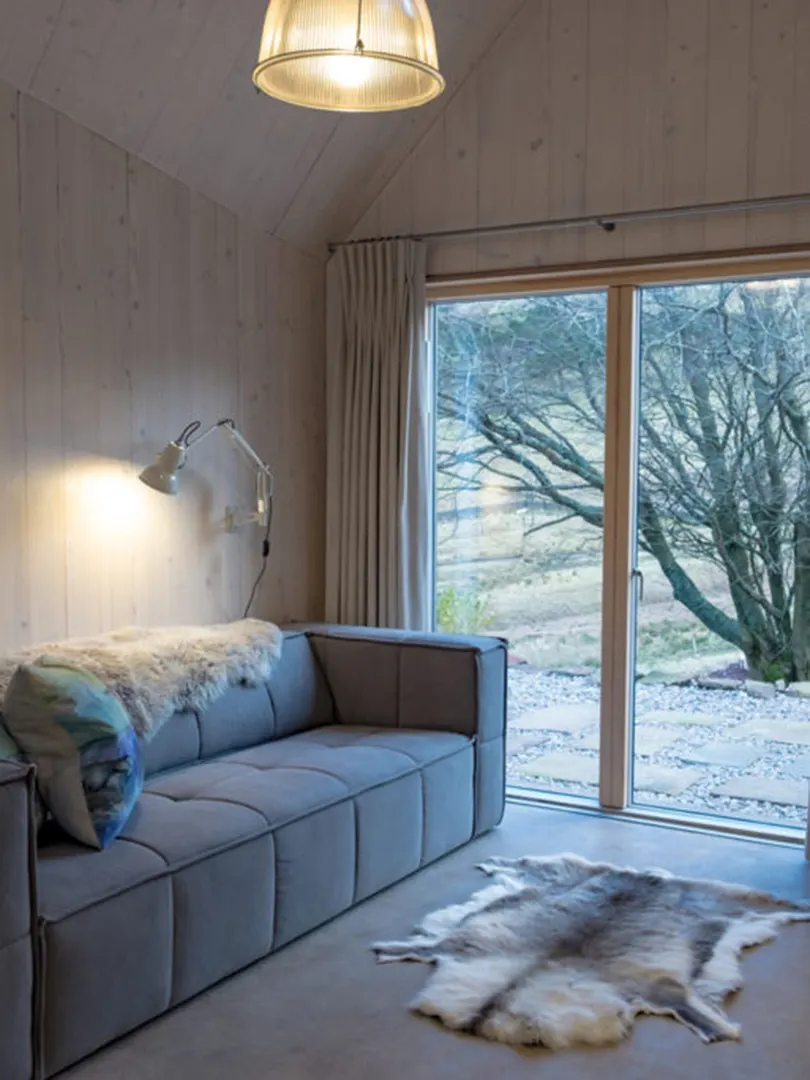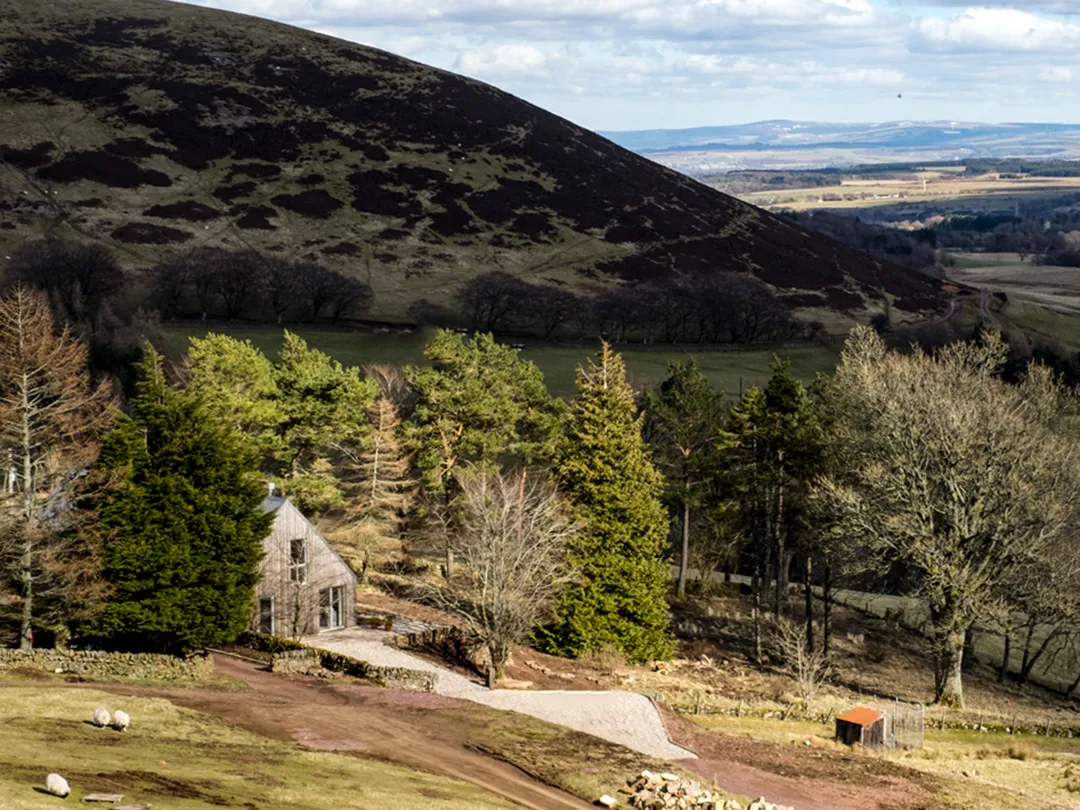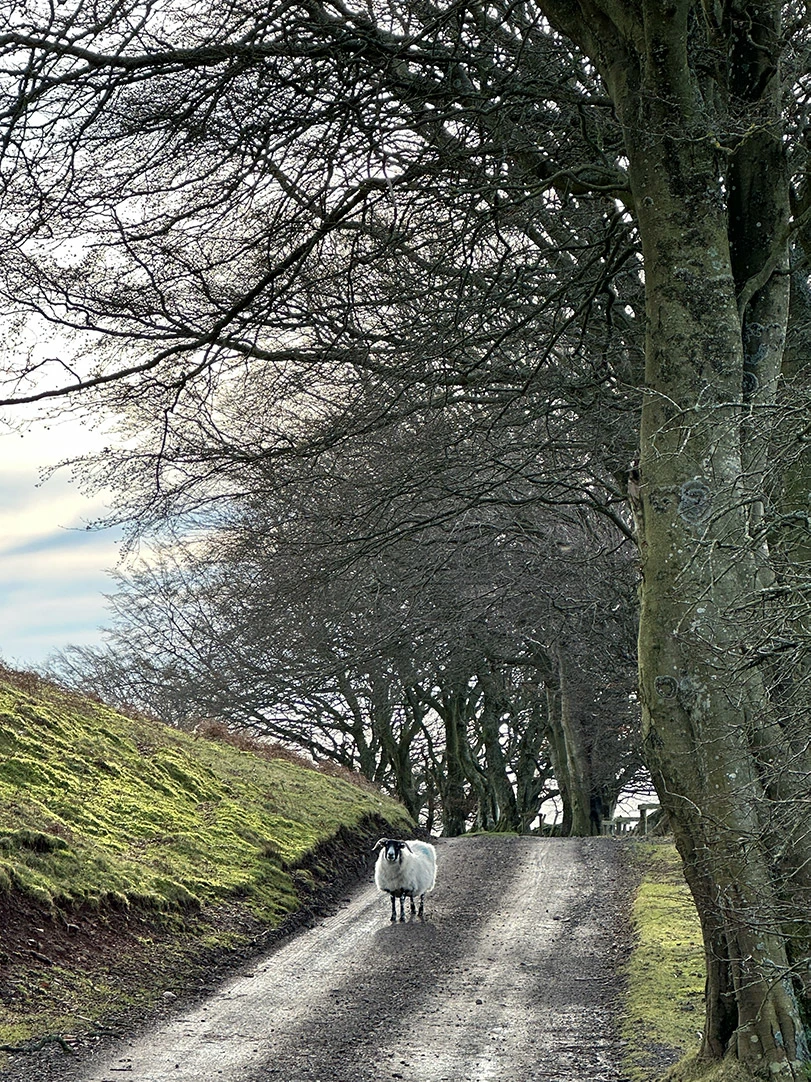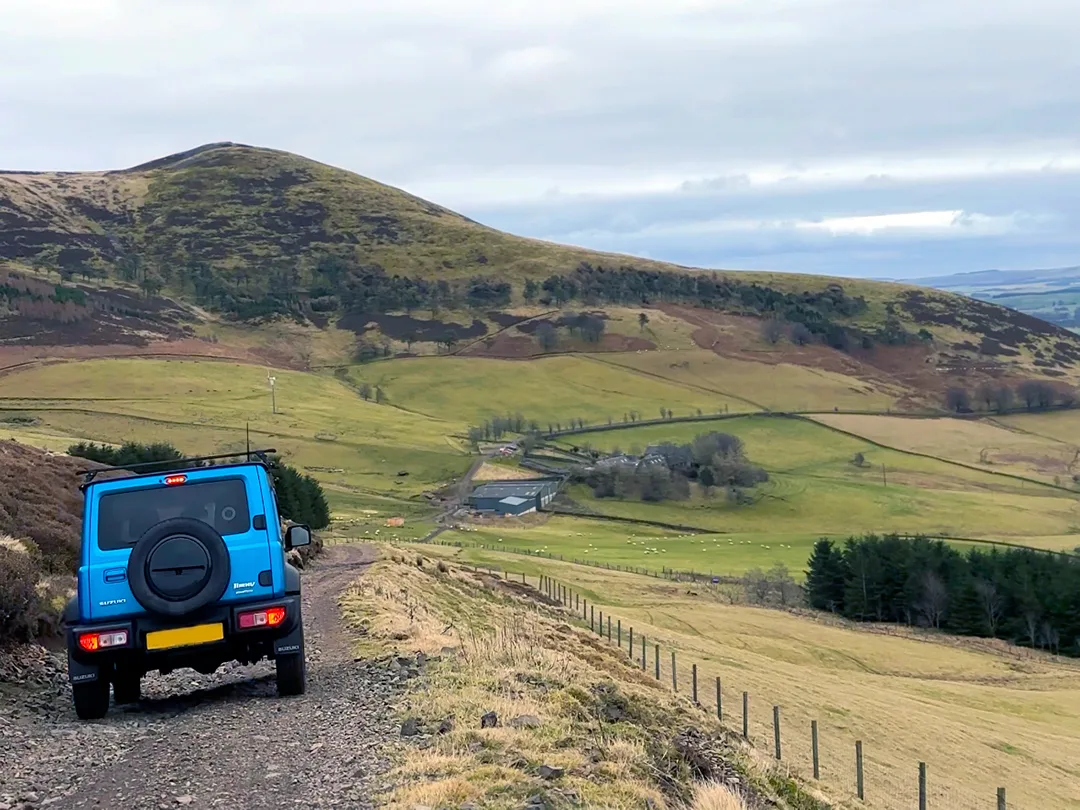 Dog friendly holiday cottages near Edinburgh – Steading Cottage and Byre Cottage
If you are looking for an Edinburgh holiday cottage or for Pentland hills accommodation, then Eastside Cottages two family spaces are for you. The Steading Cottage (once a hay shed) and Byre Cottage are great for little feet and muddy paws, being child and pup friendly.
Both cottages have great family dining kitchens, two bedrooms, squishy sofas and for those who want to experience farm life, sheep, dogs and horses on your doorstep. Outside you have your own private garden with a fire pit and bbq – and for even more relaxation, you have your own private 4 hour time slot in Eastfield's wood fired steam/sauna.
Wellness – the spa at Eastside Cottages
For those looking for a wellness break adrift from the city, the cottages at Eastside have access to their own woodland spa – a Finnish wood-fired steam / sauna inside a fabulous yurt and an outdoor spring-water cold plunge bath – take a deep breath and jump right in.
Eastside Cottage's sauna yurt was built in Scotland on principles from the nomadic people of Kyrgyzstan, and made with aromatic larch (for that rich woody sauna aroma) and ash and insulated from everything the Scottish weather can throw at you with wool from Scotland.
The stove uses pine wood, grown at Eastside – the farm has planted 42,000 trees, a mix of Scots Pine, Oak, Birch, Beech, Willow and Hazel. The trees aren't just to support the farm's stoves and biomass boilers, but for sheep shelter for warmth and to help halt the decline of the rare Black Grouse you may spot up on the moors.
The sauna yurt is heated to around 50 degrees, the perfect temperature for a relaxing evening – unless you want to raise the temperature – adding water to the wood stove turns the sauna into a steam room, building up the humidity. Then take a deep breath and jump into the spring water tub, before returning to the sauna. For 4 hours, it is all yours.
For guests at Westside Woodshed on the other side of the valley, you have access to your own wood-fired hot tub.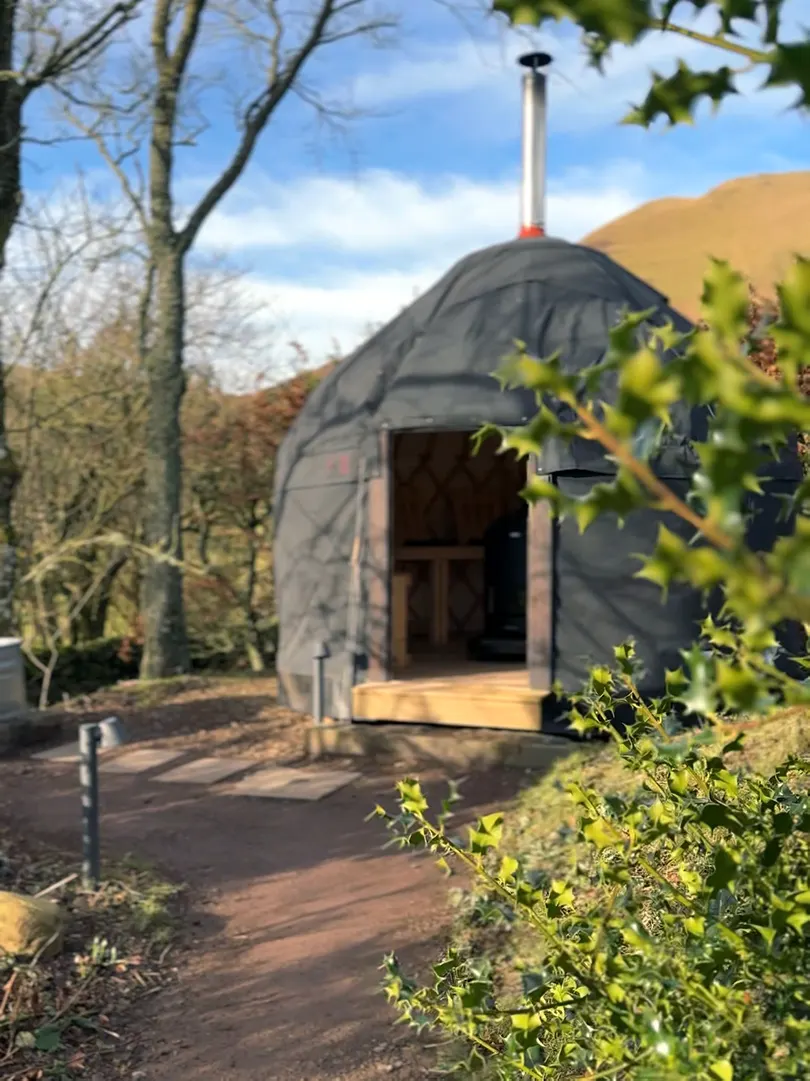 Things to do near Edinburgh and Eastside Cottages
If you can tear yourself away from your Eastside Cottage or the wood-fired sauna spa then there are lots of things to do just outside.
Eastside is located within the Pentland Hills Regional Park – these cottages are all about location, location, location! The farm is located in an area of outstanding beauty – the Pentland Hills are one of the best places to go for a walk – and they are literally on your doorstep.
Why not head out over the Pentland Peaks, hiking from the Woodshed or The Cartshed, up the track, over the Kips and Scald Law all the way to Flotterstone (Inn) for a well earned refreshment! My advice, bring your boots & walking sticks. Why not follow the trails on your mountain bike to Bavelaw Castle for views of Edinburgh.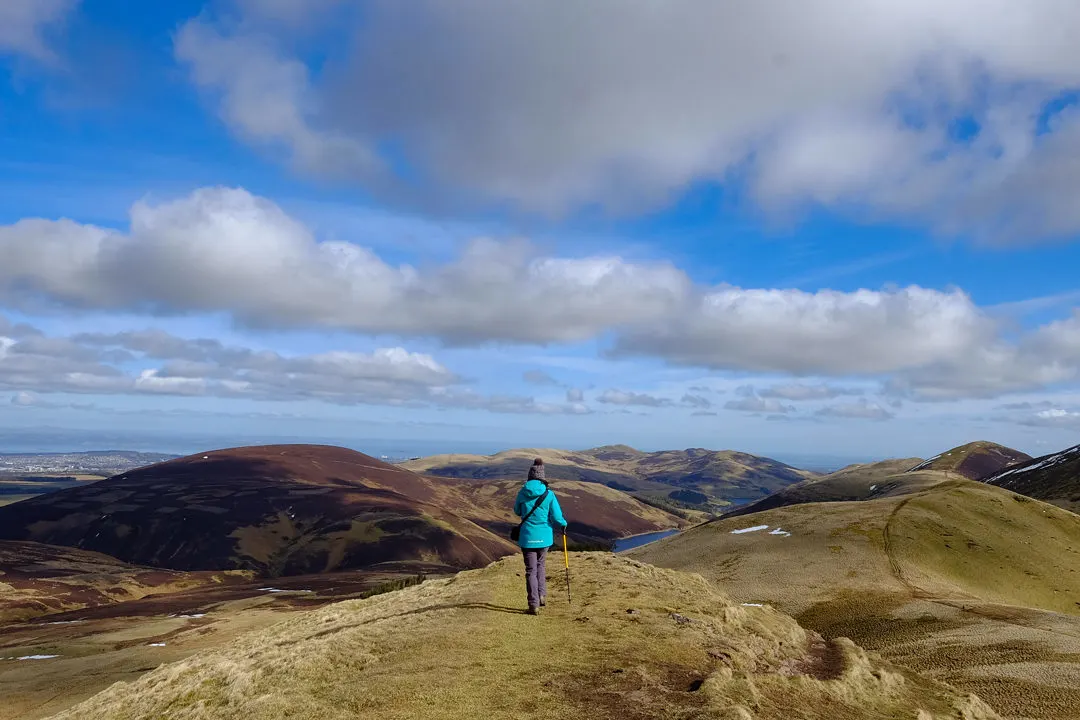 My favourite walks in the Pentland Hills.
The Five Peaks in the Pentlands – a 10-mile circular which takes in the Five Peaks of the Pentlands – Turnhouse Hill, Carnethy Hill, Scald Law and East and West Kip. You can walk this from Eastside Cottages.
The Great Glen Mystery Walk – a 2-mile ramble (which can be shortened to a mile) from the Flotterstone car park up to Glencourse Reservoir, great for kids
The Torduff Water Walk – a 2 mile circular around Torduff & Clubbiedean reservoirs
Nine Mile Burn and Caps Law – a 4 mile path takes you up over Monks Ridge and Caps Law to the foot of the Kips before returning underneath Braid Law.
The Capital View Walk – explore Hillend Country Park to Swanston on this short 2.5 mile (but very hilly) walk
The Pentlands Skyline – the full circuit of the Pentland Hills two ridge lines over 16 miles.
Further afield, stroll across the hills to Swanston, Edinburgh's thatched village – look out for highland coos and black grouse on the way.
If you like bright lights, big city, then Edinburgh is only 20 minutes away, explore with my favourite things to do in Edinburgh and head out for dinner at one of my favourite Edinburgh restaurants.
Nearby history buffs will love Rosslyn Chapel and the walk around Roslin Glen.
For foodies Whitmuir Farm has a cafe for lunch and a well-stocked shop if you fancy picking up some of their own organic vegetables, pork or beef for tea. Or try The Secret Herb Garden – a specialist herb nursery and trendy cafe outside of Edinburgh. The Restoration Yard is a lovely shop and restaurant in Dalkeith Country Park.
Mountain bikers will love the 7 Stanes and with three of the 7 stanes mountain bike centres along with a Go Ape, Peebles is a popular day trip especially for those who love to get outdoors. Grab your bike and head to one of the miles of bike trails – try the beginner's Upper Green Route at Glentress with its fabulous views across Peebles and for serious mountain bikers try the Innerleithen XC route.
Read more – my complete guide to Midlothian and the Scottish Borders
Read more – my Midlothian and Scottish Borders Itineraries
Looking for self-catering cottages near Edinburgh? Book at Eastside Cottages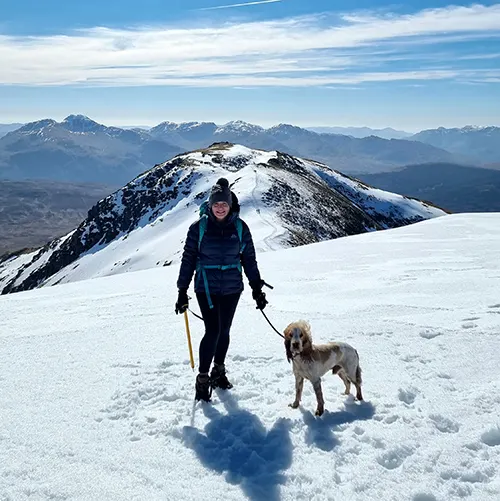 I'm Kate – a travel writer and photographer living in Scotland. Love, From Scotland is the Scotland travel guide that shows you where to stay and how to get outside in Scotland.