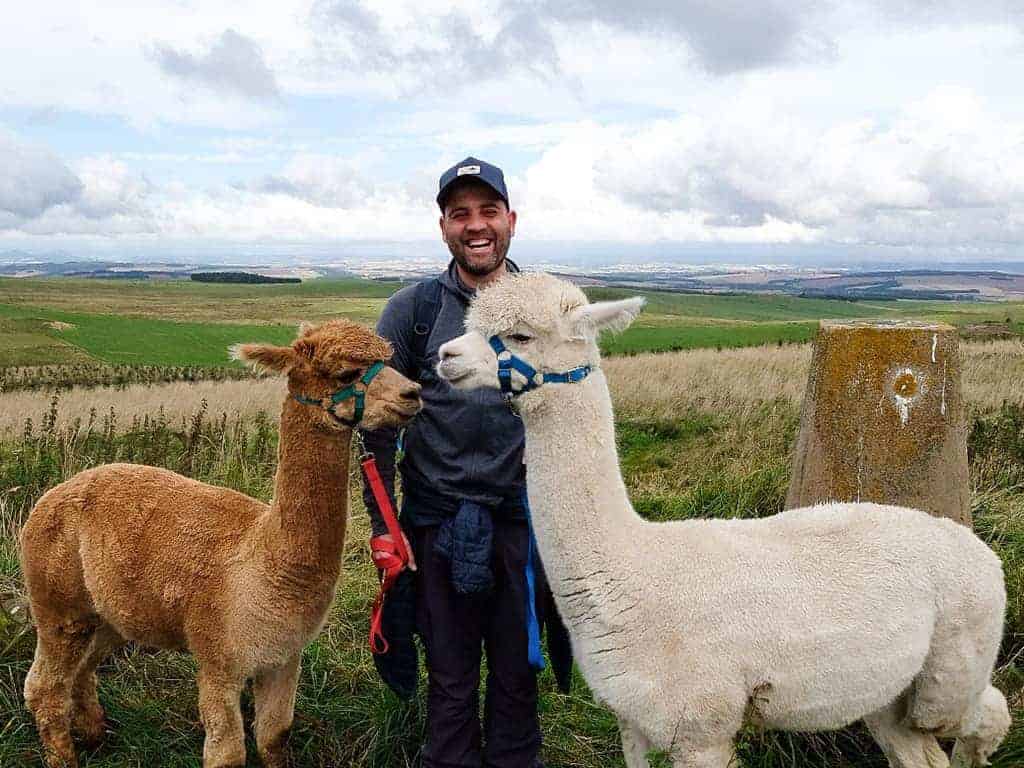 Let's go alpaca walking!
Fancy going alpaca walking? On 12 acres, 1000 feet up in the Cheviot Hills is Beirhope Farm. Rather than raising sheep or cows, Beirhope Farm is home to a herd of alpacas – which you can take for a walk! Lets go walking with alpacas.
Disclaimer – our walking with alpaca trek was part of a trip to the Scottish Borders with Scotland Starts Here. Read my complete guide to the Scottish Borders here.
Covid 19 – our visit took place during the Covid-19 pandemic. Beirhope Farm was fully compliant with the 'good to go' scheme, and had handwash and hand sanitiser on hand. We did not need to wear masks as we were outside and 2m social distancing was complied with at all time when we were walking with alpacas. We felt completely safe.
What is walking with alpacas at Beirhope Farm?
After moving to the hills of the Scottish Borders, Beirhope Farm owner Lynne fell in love with alpacas after being introduced at a glamping show in 2016. Lynne now has 13 boys and 6 girls on her farm – including their own babies – and now offers alpaca walking up into the hills.
Alpacas are friendly (and sometimes naughty) domesticated animals, who love a stroll in the hills which makes them perfect for taking for a walk. On a walk with an alpaca at Beirhope Farm you lead your furry friend up into the edge of the Cheviot hills on a 2 hour stroll at a gentle pace.
Alpaca walking in the Scottish Borders
On arrival at Beirhope Farm, you are introduced to the alpaca herd – boys on one side, girls on the other – and given a box of treats to tempt them to become your friend. You won't have any problem as soon as they notice the carrots!
You are then meet your alpacas for the morning – ours were two cheeky and friendly boys called Dante (brown) and Daniel (white) – who we were to take for a walk. After a wee lesson on how to walk best with your alpaca on a lead we headed out into the Cheviot Hills.
Leaving Beirhope behind we headed out on our 2 hour walk up into the Cheviots. Following a farm track we learnt all about our alpacas – do you know the difference between an alpaca and a llama and what alpacas are used for apart from taking on a walk? (we now do, see below) Owner lynne is a font of all alpaca knowledge.
Reaching the top of Hare Law we had views back across Beirhope to Thowliestane Hill and across to the Cheviots and Cunzierton Hill with its hill fort. The views stretch right across to the Eildons, the coast and even to Edinburgh! Lynne told us tales of romans, raiding revivers, and Scottish Border's history.
As you can see from our smiles – it was great fun.
The need to know before you go alpaca walking at Beirhope Farm
What are alpacas?
An alpaca is a domesticated animal, which kind of looks like a stretched-out sheep. Alpacas actually come from the same family as camels, the camelid family which includes the llama. Alpacas are normally found in Bolivia, Ecuador, Chile and Peru – and Scotland!
Alpacas normally live at 3,500 to 5,000 metres (11,000 to 16,000 feet), a little lower than at Beirhope Farm in the Scottish Borders where they live at 1000 feet.
Alpacas are very gentle and nosy, intelligent and observant – and love food which means they can (sort of) be trained by it – they still have plenty of personality. Alpacas are also very tidy animals – they have dung heaps which they all use, rather than just going anywhere and everywhere!
What is the difference between an alpaca and a llama?
Alpacas are much smaller than llamas – and were not bred for work, but for their fleece. Alpaca ears are shorter, and their faces are bunter, and they are pack animals, whilst Llamas are much more independent. Llamas are often used to guard herds of alpacas!
Are alpacas dangerous? Do alpacas bite?
No, alpacas are not dangerous. They are very gentle animals and they don't have top teeth so they can't bite!
Are alpacas dangerous? Why do alpacas spit?
Alpacas do have a reputation for spitting when they get angry – but it is usually when another alpaca gets into the alpaca's personal space, or they are scared – so be quiet and gentle around your alpaca and you will get on absolutely fine!
What are alpacas good for?
Alpacas make for great domesticated farm animals and pets. They have been traditionally kept as their wool is very soft, hypo-allergenic and similar to sheep wool and comes in lots of different colours – great for hats, scarves, gloves and blankets. Alpacas are now used as therapy animals – and walking with an alpaca is definitely a kind of therapy!
They also take EPIC selfies…
How to go trekking with Alpacas at Beirhope Farm, Scottish Borders
Beirhope Farm is in the Scottish Borders, around 1.5 hours from Edinburgh and 1.5 hours north of Newcastle. The closest Scottish Borders town is Jedburgh.
Alpaca treks are suitable for children 10+ and adults.
We went on Beirhope's 2-hour alpaca trek, Beirhope Farm also offers longer 3-hour sessions, and gentle 1-hour visits suitable for children wanting to take an alpaca on a stroll. The 'Meet-A-Paca' visit is for 30 minutes and includes feeding an alpaca, but no walking.
Prices range from £10 to meet the alpacas, to £45 for a 3 hour visit.
Want to go walking with alpacas? Book your Alpaca Trek online
Go walking with alpacas – you won't regret it.
Love, from Scotland x
Read more – my complete guide to Midlothian and the Scottish Borders
Read more – my Midlothian and Scottish Borders Itineraries