With stunning beaches, colourful towns, temperate rainforests, and the possibility of spotting bears, orcas and dolphins, a trip to Vancouver Island had been on my bucket list for years. An invite to a wedding in Seattle was the perfect opportunity to add on a road trip to Vancouver and across to Victoria, Tofino, Ucluelet and Maple Bay. We fell in love instantly with Vancouver Island's slower pace of life, incredible sunsets and rugged coastal scenery. Here is how to take our spectacular Vancouver Island road trip.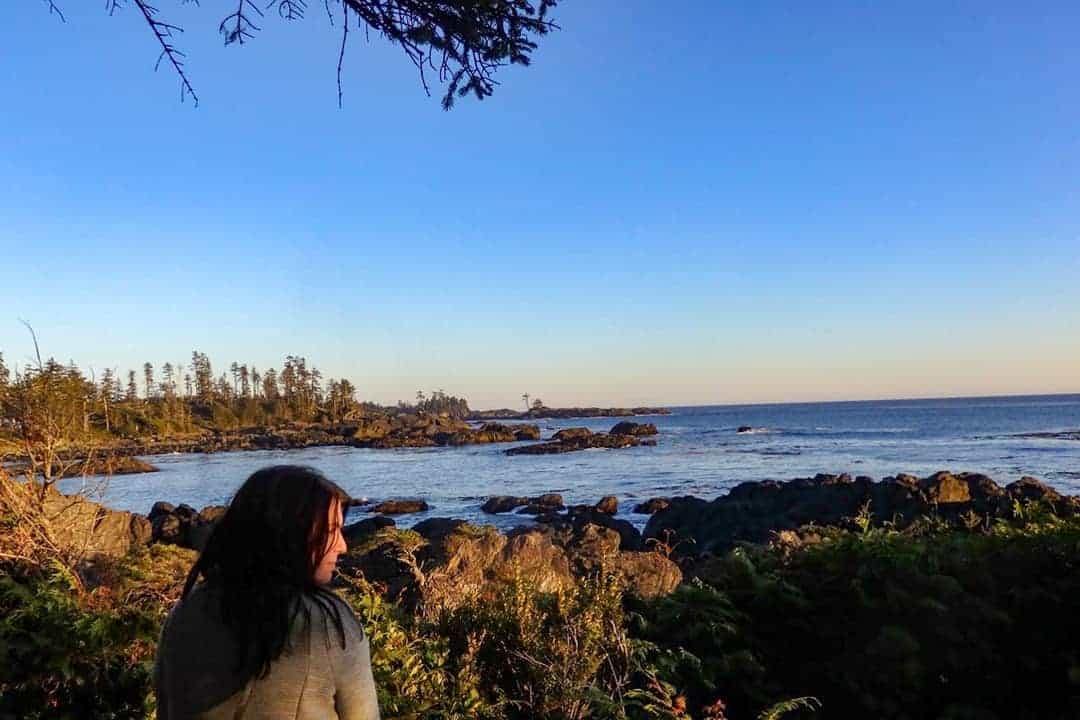 A Vancouver Island road trip itinerary
---
Discover Victoria, British Columbia's Georgian capital
Visit the quirky Goats on the Roof
Walk amongst the giants at Cathedral Grove
Relax into beach life at Tofino and Ucluelet with your own cabin on the beach
Hike in the Pacific Rim National Park
Hide away in a boatshed on the waterfront at Maple Bay
How to get to Vancouver Island
---
Where? Vancouver Island is the largest island off the west coast of North America and sits off the coast of Vancouver. The main city on the island, Victoria is the capital of Canadian state of British Columbia.
Catch the ferry from Vancouver to Victoria: Cross the beautiful Georgia Strait from Tsawwassen winding your way between the smaller islands of Galiano, Mayne, and Salt Spring before arriving into Swartz Bay to the north of capital city Victoria.
Fly from Vancouver: there are five airports on the island, and WestJet and Air Canada both fly daily. Flight prices are around £80 to £100, however you will then need to hire a car from the airport.
Things to do on Vancouver Island
---

Discover Victoria – Capital of British Columbia
Don't be surprised if you get a little bit of British culture shock arriving into Victoria, the capital of British Columbia, for the cities colonial past is still evident, with Victorian buildings and afternoon tea at the Empress Hotel. First named 'Fort Victoria' after the British queen, beyond the cities rather quiet and gentile facade, we discovered that Victoria is a thriving city with stylish waterfront bars and restaurants.
3 things to do in Victoria, Vancouver Island
---
1) Walk around the Inner Harbour
Dominated by the British Columbia Parliament Buildings, Victoria's Inner Harbour is perfect for an afternoon stroll along the boardwalk which stretches from Chinatown to Fisherman's Wharf. The Inner Harbour is also home to lots of seafood restaurants so grab a glass of wine and watch the tiny seaplanes taking off in the bay – or if you are brave enough (not me!) take a scenic tour over the Georgia Strait to Vancouver.
2) Take a tub boat to Fisherman's Wharf
Victoria's harbour is full of buzzing little taxi tub boats which can be cheaply used to hop around the harbour. Hop on the boat (you pay the driver on board) and cross the bay to Fisherman's Wharf for a seafood lunch and to meet the expectant harbour seals awaiting their share. Watch out – you might get splashed! The wharf is full of amazing houseboats or 'float homes' so choose your favourite and dream of the day you can move in.
3) Explore the beautiful Butchart Gardens
To the north of Victoria are the Butchart Gardens, a 55-acre display gardens hidden in an old cement quarry. Discover the incredible sunken garden built in 1920, stroll amongst the rose gardens and watch the colourful fountains and Saturday night firework displays. The gardens sit on Brentwood Bay, around 30 minutes north of Victoria. Entry is around £19 for adults and the food on site is pretty good too! Visit Butchart Gardens.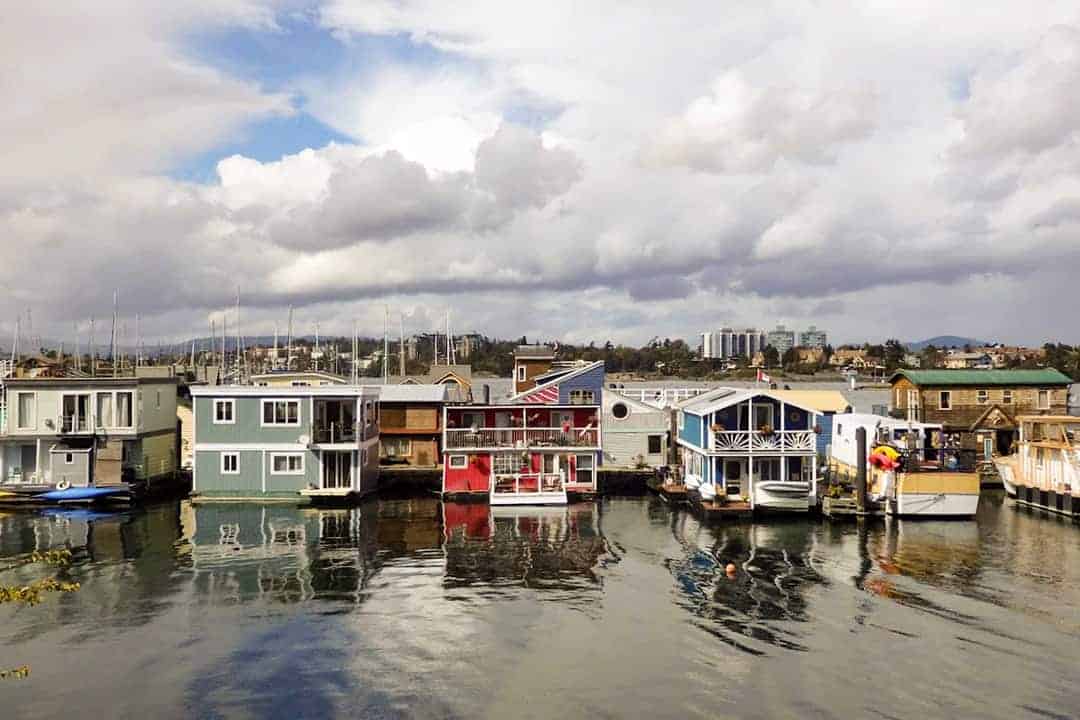 Where to eat, drink and stay in Victoria
---
Visit the quirky Goats on the Roof
---
Leaving Victoria behind it is time to head north to the Pacific Rim National Park. We'd booked a self-catering cabin on the beach at Ucluelet so we needed to stop en route for supplies. The perfect stop? Coombs Old Country Market with its goats on the roof! Originally set up by a Norwegian family, the market comes complete with a grass roof and its own goats – which have been a Vancouver Island tourist attraction for the last 30 years. The market sells everything you could wish for (and more!) along with a cafe, taqueria and pizzeria.
TIP – Fancy a BBQ? Head to Pete's Mountain Meats – a great butcher in Port Alberni.
Walk amongst the giants at Cathedral Grove
---
Between Goats on the Roof and Port Alberni is the MacMillan Provincial Park, a 300-hectare park containing Cathedral Grove, a forest of giant Douglas Fir Trees – with one tree measuring more than 900 cm in circumference. From the parking lots on either side of Highway 4 (be careful, this is a very busy road and parking is extremely limited) there are three trails, the old growth trail, the living forest trail and the big tree trail. Entry is free but donations are welcome.
Relax into beach life
---
Like beaches, whale watching and surfing? Then Tofino is for you. Sitting far out on a peninsula on the west coast of Vancouver Island, Tofino offers up an end of the road experience quite like nowhere else. Just driving to Tofino is spectacular. To the south of Tofino is Ucluelet, nicknamed "Ukee" it is a no-nonsense unpretentious town with friendly locals, and incredible scenery. Hike out to the Ucluelet lighthouse for incredible sea views, take a boat trip out into the Clayoquot Sound, go kayaking or take a seaplane over the water and then head back to your cabin on the beach and watch the incredible sunset over the water.
Tip – Ucluelet and the Pacific Rim National Park are bear, lynx and wolf country – and coming from a country where the scariest animal is a giant house spider I must admit that walking home at night we did sing rather loudly, just in case any were around… "the bare necessities of life will come to you"!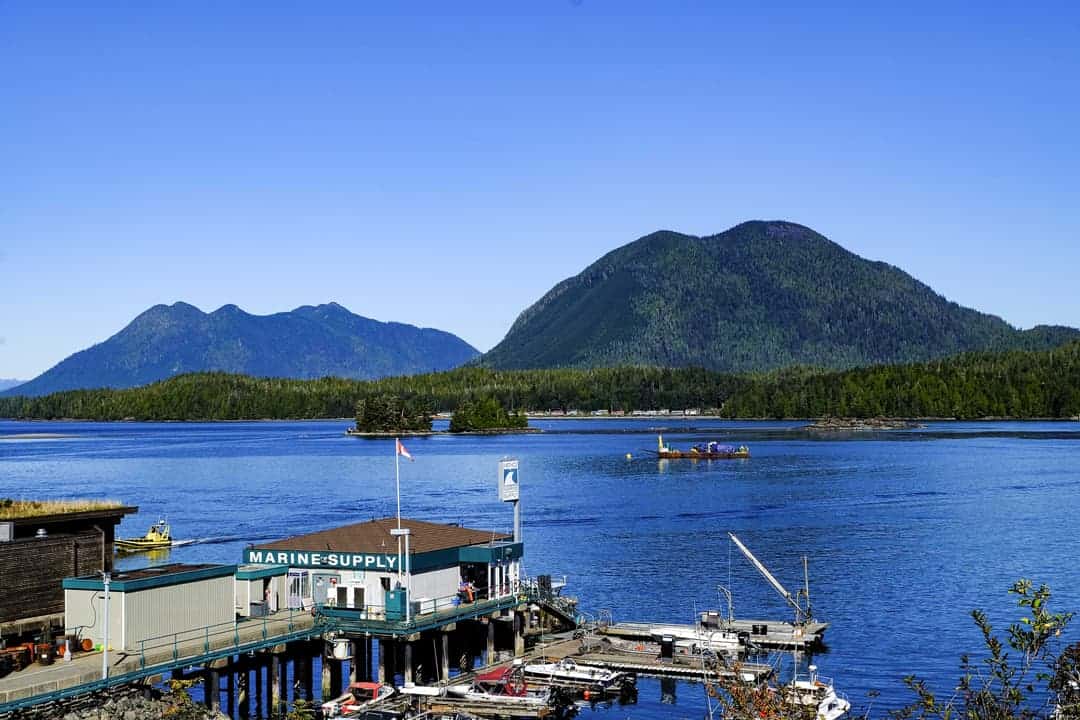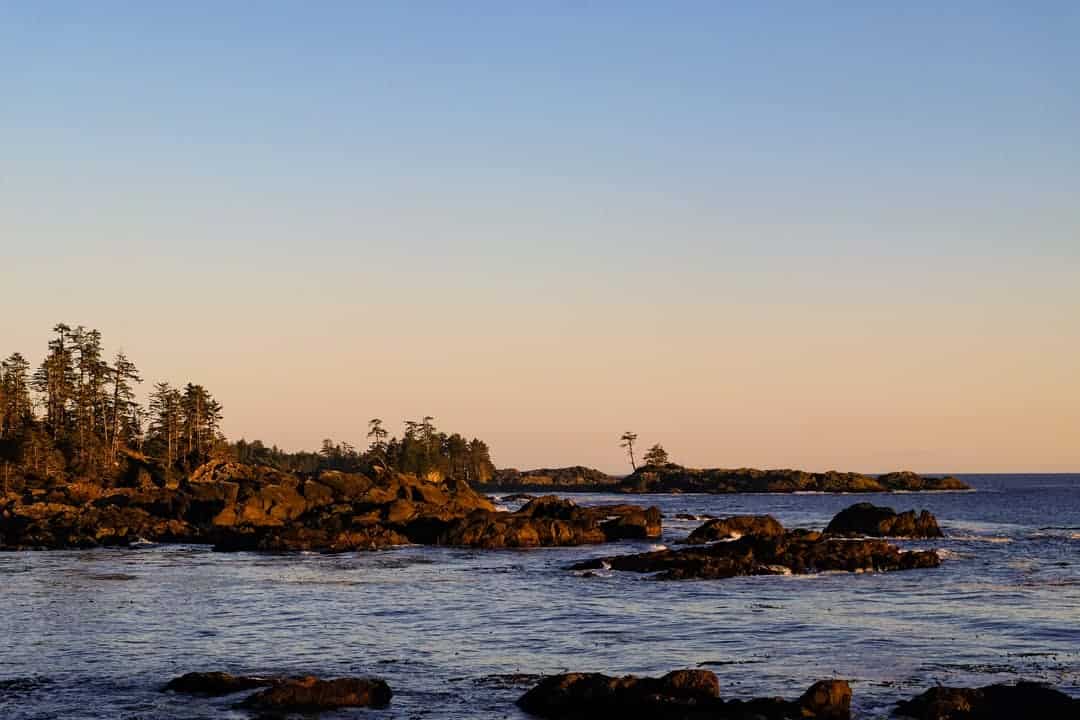 Where to eat, drink and stay in Tofino and Ucluelet
---
COFFEE/BREAKFAST

–

Rhino Coffee Shop

is located on Toffino's high street and serves up excellent coffee, huge breakfast wraps and excellent doughnuts. Grab a seat on the bench outside and watch the world go by.

DINNER – Hanks Untraditional BBQ

serves perfectly pulled pork & ribs and brisket so soft you might just cry. With local beers on the chalkboard, try a BBQ plate – they come with delicious cornbread and beans.

STAY –

We stayed in our own honeymoon hut at the

Cabins at Terrace Beach

. Ocean Pearl sits right out on the Pacific Coast with views over the water for sunset and direct access to the beach. The cabin has its own bbq deck and a jacuzzi bath with views of the bay.
Hike in the Pacific Rim National Park
---
The Pacific Rim National Park is a 500+ km reserve with incredible beaches, a world-renowned coastal walk, the West Coast Trail, and the Broken Islands, kayaking heaven. There are hiking trails throughout the park which take you to the many beaches, including Long Beach, the longest stretch of sand in British Columbia, between Tofino and Ucluelet. My favourite was Wickaninnish Beach with its mountain backdrop, surfers and interpretation centre and cafe.
TIP – The Park visitor centres will have signs advising you of any wildlife around, including recent black and grizzly bear sightings, so keep an eye out for the signs, if you are going to be walking off the main beach trails then follow this wildlife advice from BC Parks. You might be desperate to see a bear, but you need to know what to do – if you do!
Hideaway in a boatshed at Maple Bay
---
In need of some relaxation after all that road tripping? I have the perfect spot for you. In the Cowichan Valley and sitting on the edge of the Georgia Strait with views to Salt Spring Island is Maple Bay and a very special boathouse. Sit on your own private deck with a glass of wine in hand, wander down to the local marina and bar, or just watch the sky turn pink over the bay. Stunning. Book the Boathouse at Maple Bay through Airbnb. Fancy a discount on your stay – use my £25 in AirBnB credit link!
We loved every moment of our trip – from the scenery, the food, the places we stayed, Oh Canada you were stunning.
Love From, Scotland x
A Vancouver Island Road Trip
We flew into Vancouver and picked our hire car up at the airport. We found the drive incredibly easy, including the motorways and the ferries. For more information on British Columbia visit HelloBC