There is nothing more synonymous with Scotland than whisky. For those in the know, the place to go for whisky is the Scotch Malt Whisky Society.
Whilst you can pick up a great dram in most Edinburgh bars, for those in the know the place to go for whisky in Edinburgh is the Scotch Malt Whisky Society, a private members club which grants members access to single casks purchased by the society directly from the distilleries.
However, until recently, access to the SMWS's beautiful tasting rooms in Leith and the New Town was only open to members and their guests. That all changed in August 2016 when the society gave their Georgian townhouse on Queen Street a makeover and opened its doors up to the public. We were invited along as guests of the society to taste the restaurant's spring menu and indulge in a whisky cocktail or two.
Supper at the Dining Room at the Scotch Malt Whisky Society
Pairing whisky and food was, I admit, a new one on me, but being all about whisky, the Society doesn't do things by half. Now, those with no knowledge of whisky flavours (this includes me, I like whisky, but am no way near an expert) would think the smoky taste of whisky would overwhelm any food that came near it, but that is not the case.
In fact, it is a perfect marriage – and the Dining Room specialises in it. As we relaxed in the societies pretty dining room we were shown just how good whisky can be with food with a surprise dram of 'Bitter Sweet as Lost Love' (more on the names later) and a taster of smoked haddock tartare. Although I must admit the whisky got more attention than the food.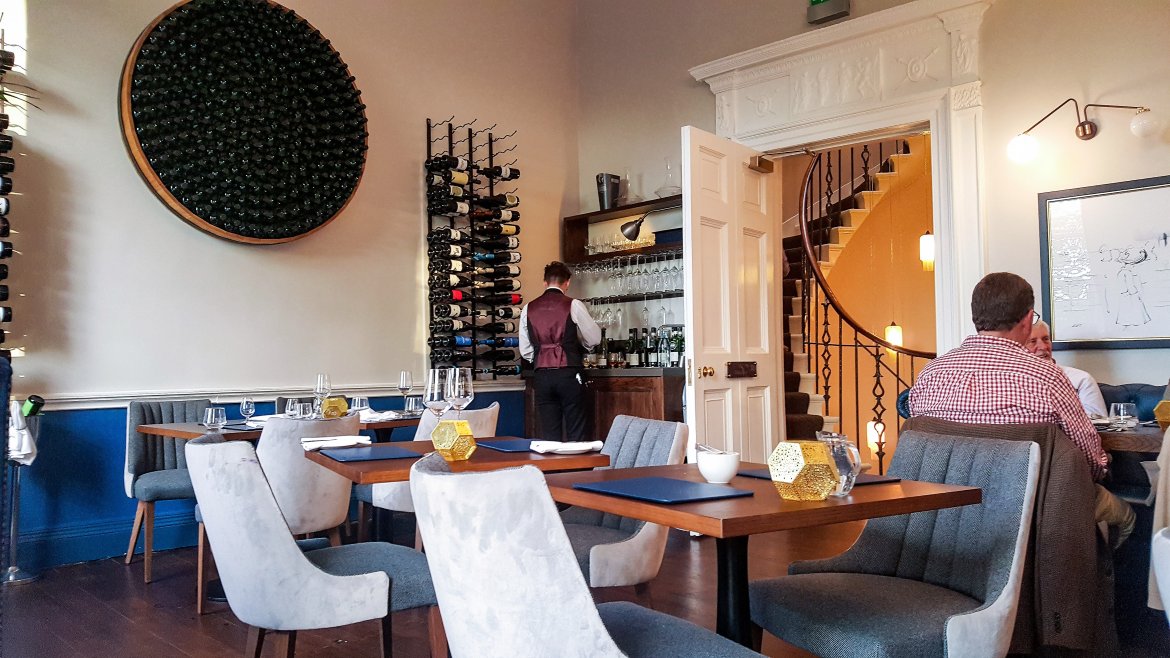 That all changed with the arrival of our starters, a beautifully plated wild boar terrine with apple and shallot jam, and new for the spring menu, yellow beetroot with veloute, lemon thyme, cheese (goats or sheep it depends on the plating) and rye. My beetroot was as light as a feather and beautifully vibrant on the plate. I only got one tiny taste of the terrine, it was so jealously guarded.
We'd chosen our dishes mostly from the Menu du Jour (£21.95/3courses/until 6.30pm) and just from the starters alone were soon exclaiming of the value of the menu, this was an impressive start for a light, quick pre-theatre menu.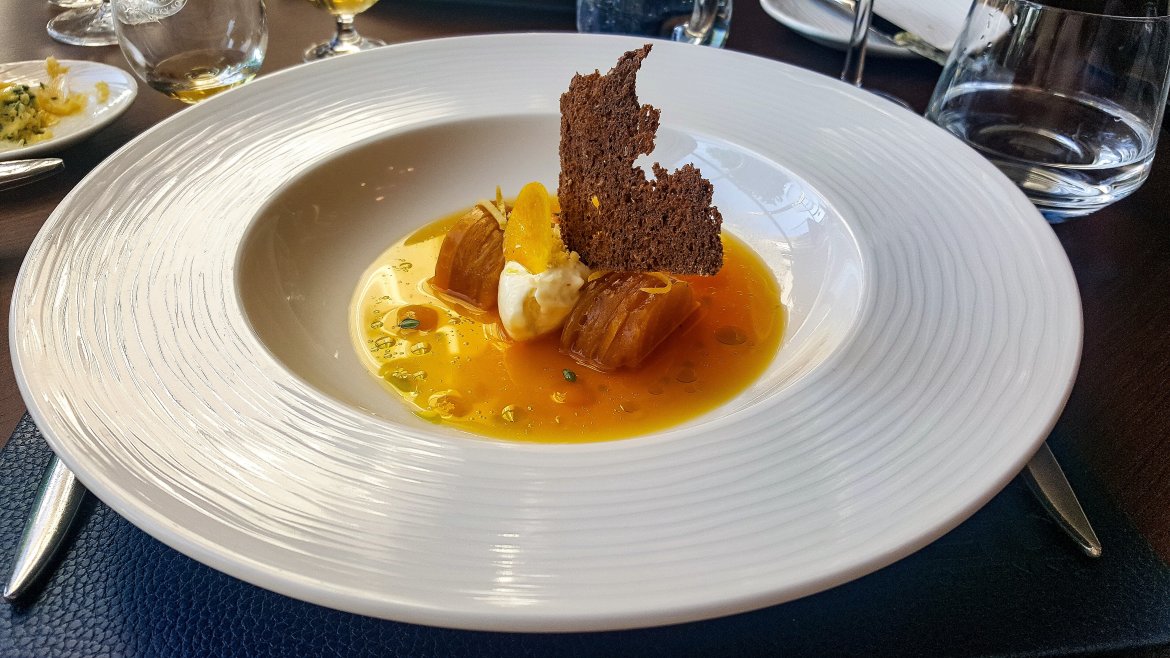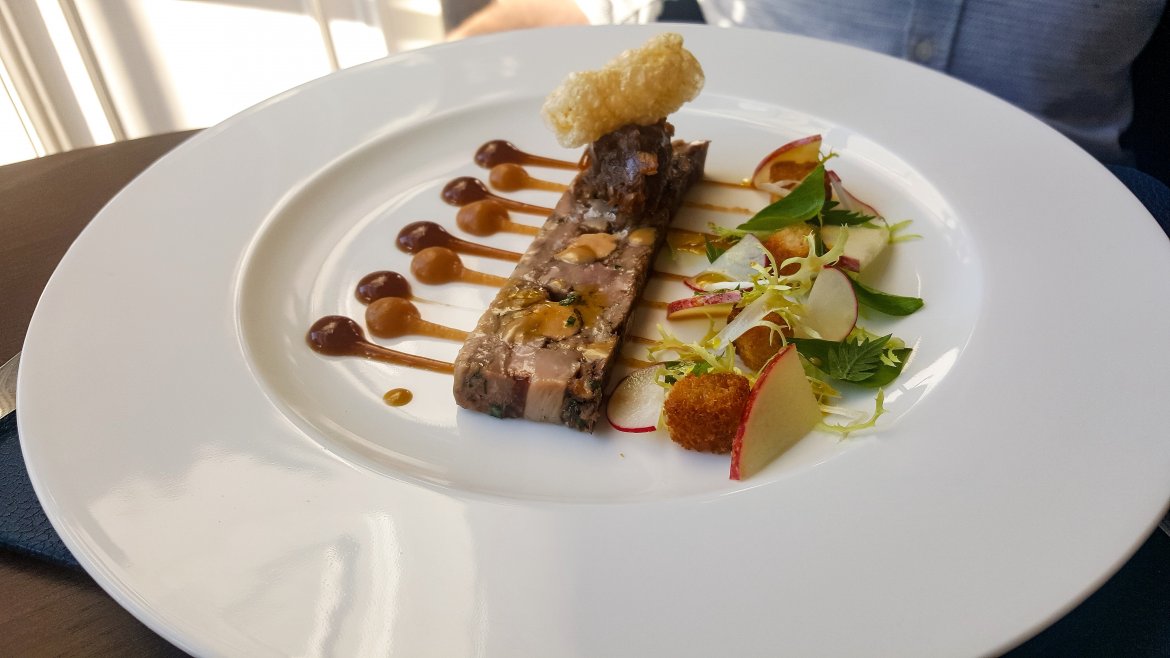 For our mains, we swapped, with B going for the spring dish of roast cod with caramelised cauliflower and smoked ham hock. Despite the sun splitting the sky outside I chose braised beef, a personal favourite, which was served with a light barley broth and salt baked veg. It was my turn to ignore the pleading glances of my dining partner, as my dish was comfort food perfection.
At this point, we sensibly decided against more whisky pairings and put ourselves in the hands of the SMWS's lively sommelier. A sunny Languedoc for me, and a for B, a Turkish Kalecik Karasi, a variety I shall certainly be looking out for in summer again, as it was light enough to compliment the fish perfectly.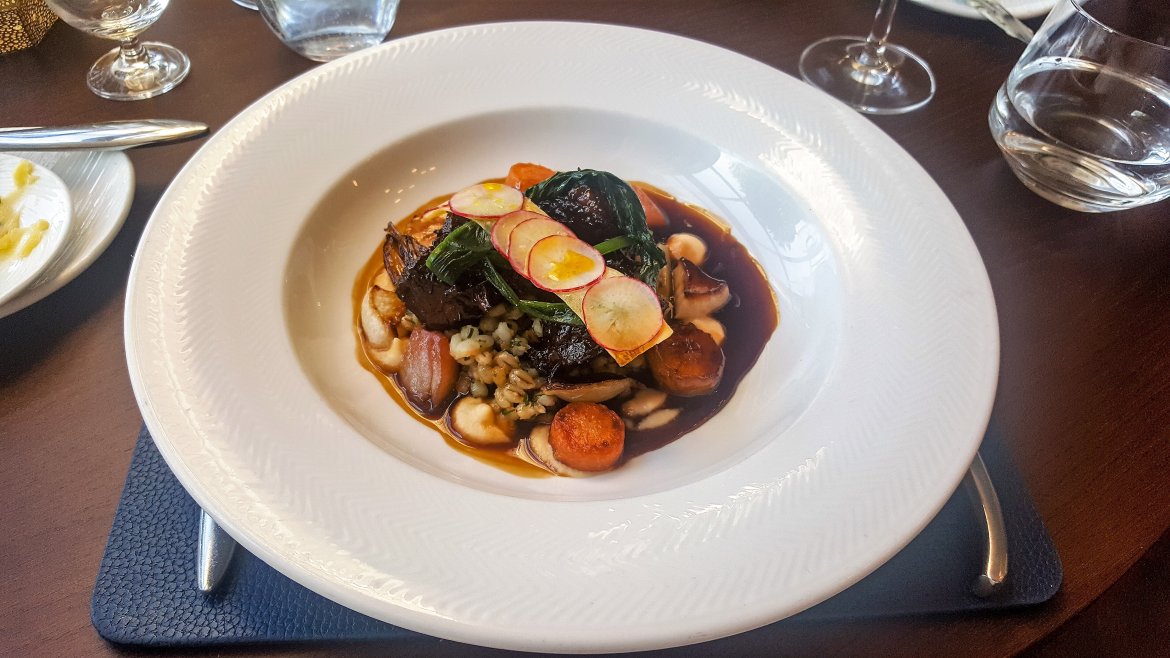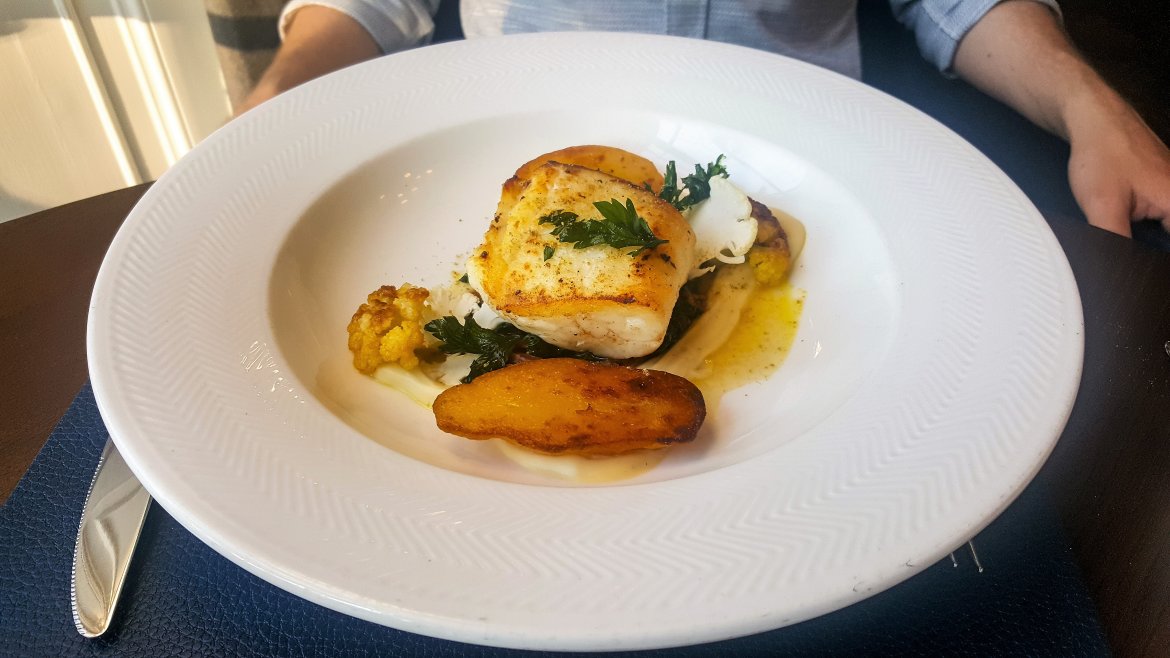 Puddings were just as delightful. Rhubarb is everywhere just now, and B's dessert was a celebration; poached rhubarb was served with a rhubarb and champagne parfait and meringue. I found myself reaching across the table for just one more spoonful, with the parfait being a particular highlight, soft, smooth and delicious.
My dessert was a little more unusual. Usually, being a fan of cheese instead of dessert, I was intrigued when I spotted sour cream pannacotta on the menu, and sold by the sound of treacle doughnuts. This was a childhood treat made especially for adults. Sour cream pudding – I'm sold!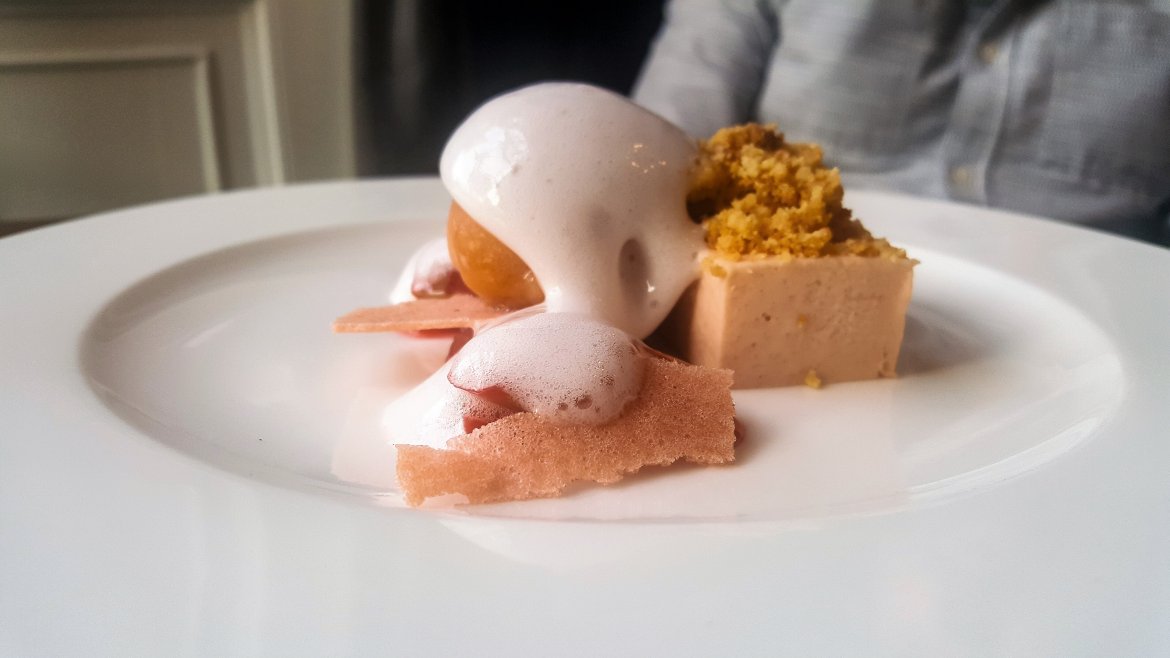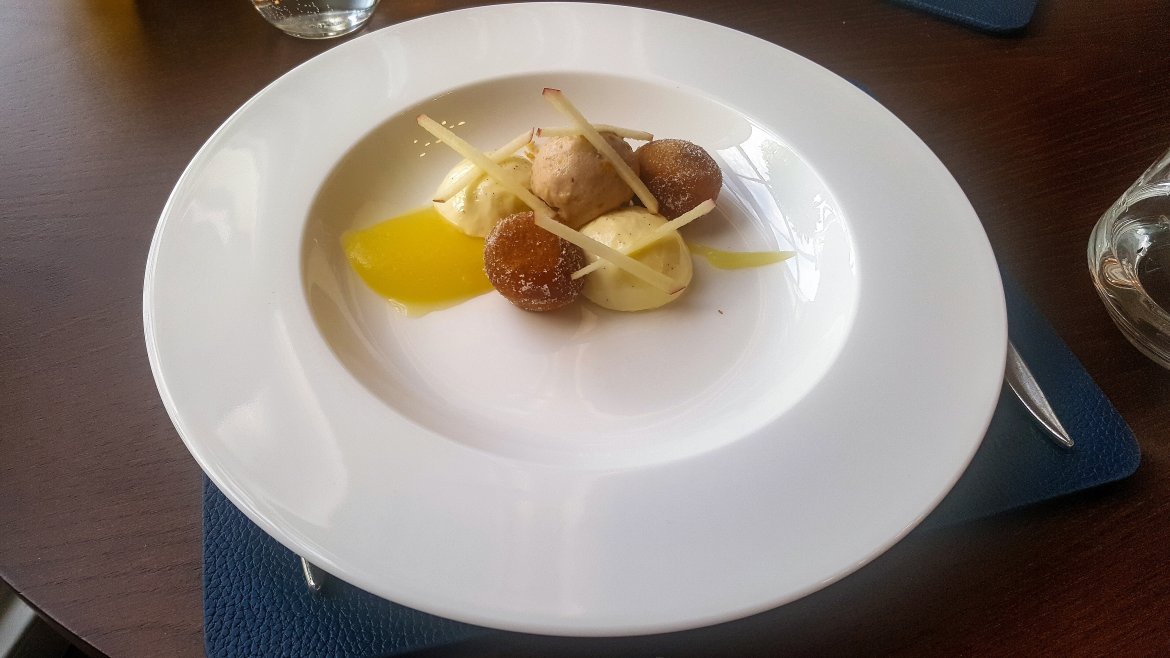 All in all, our meal was definitely one of the best value menu du jours we have come across. The menu was well balanced, with hearty classics and lighter dishes perfect for spring, and the kitchen definitely knows its way around a pud. The restaurant is certainly not just one for whisky fans, but it certainly helps!
The details – Menu du Jour (£21.95/3courses/until 6.30pm) A la Carte (£42/3courses) Tasting (£75/drinks included). The restaurant has two AA rosettes.
Supping in the Kaleidoscope whisky bar
Time for an after dinner drink!
Below the restaurant is Kaleidoscope which serves as both the Whisky Societies shop and bar. Pop in for a whisky tasting, have a 'hauf' & 'hauf' of craft beer and a single malt, or settle into a booth with their bar menu.
We pulled up a bar stool and quizzed the barman on his whisky cocktails, plumping for an Old Fashioned '1983' and for me, a cocktail made with two of my favourite things whisky & earl grey tea.
The SMWS are well known for their flowery language to describe the flavours of their spirits, and B's drink was well described as an 'elegant tea chest in the boot of a vintage Mustang' – you can just taste that description, can't you?
With memories strong of a previous SMWS bottling known as Live life on the Edge' (10.85) it was onto the proper stuff. All of the SMWS bottlings are cask strength and unique to the society, this means the society has access to some of the world's best whisky.
This, however, means you can never sample just one! We went from a cheeky 10-year-old 'Free the Imagination' (10.115) up to the incredibly punchy sherry casked 15-year-old 'Dark Chocolate Destiny' (73.81). The SMWS prefer to focus on flavour rather than distillery, but the code list is available, we sampled a Mannochmore (64) and Aultmore (73) from Speyside, and Bunnahabhain (10) from Islay.
With craft beers on tap, and a selection of Scottish gin, cool tunes on the stereo and a lovely, unstuffy relaxed vibe, Kaleidoscope was our kind of bar. We managed to stay propped up at the bar late into the evening, and left promising to renew my long defunct membership.
Slàinte Scotch Malt Whisky Society!
Love, from Scotland x
The SMWS is at 28 Queen Street, Edinburgh