As you are reading this I am probably up in the air somewhere over Scotland off on a very exciting trip. Let's ignore the fact that I am probably having a mini freak out and have my headphones loudly blaring Swifty's 1989 album (my guilty pleasure) in the hope of distracting me from the fact I am petrified of flying. There are not many places in the world that I'd get on a plane for willingly but this current trip is one of them! Watch out for some wee hints on my Twitter, Instagram and Facebook for a behind the scenes look at what I am up to over the next few days!
In the meantime, let's take a wee look back at what happened behind the scenes of Love, from Scotland in May.
The best things we did that I didn't tell you about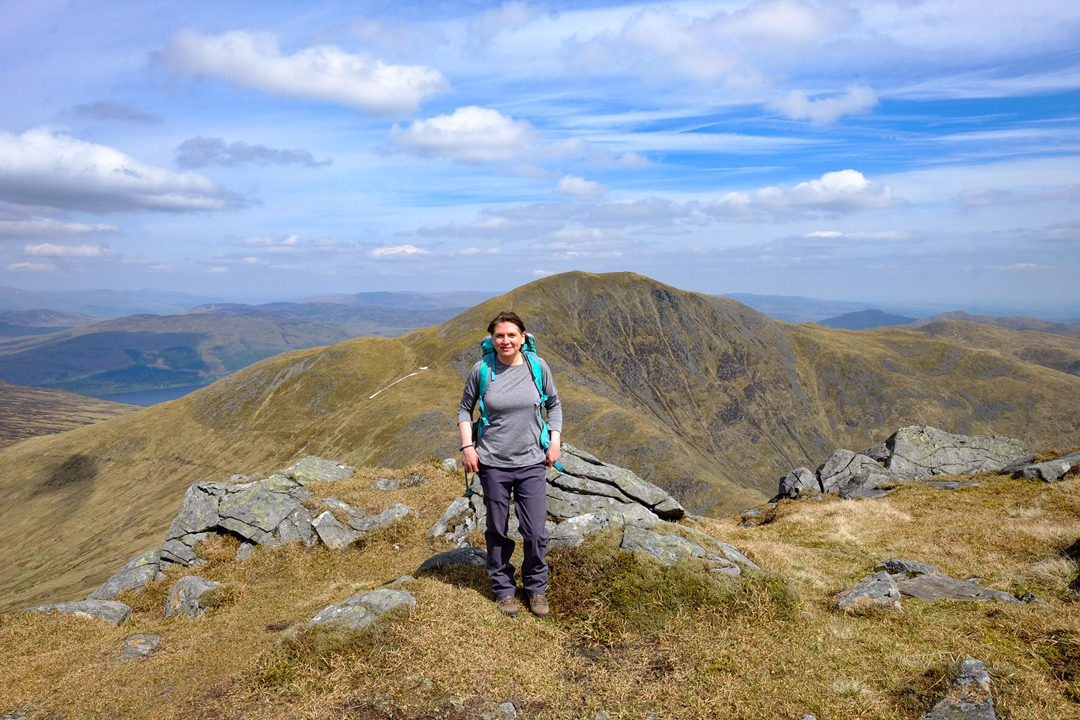 Scrambling up Stuc a'Chroin – after a few sessions of physiotherapy and some rather unladylike exercises to strengthen my legs I decided it was time to test out my troublesome IT bands on an easy hill walk. So of course instead of one hill, we decided to walk 14 miles and bag two Munros – Ben Vorlich and its tough little neighbour Stuc a'Chroin. Ben Vorlich might be one of Scotland's easiest and most popular beginners Munros, but Stuc – and its main feature the Prow – is a whole different beast, and one deserving of its Gaelic name – peak of harm or danger – I spent a lot of time on my hands and knees not looking down! The adrenaline rush reaching the top was immense and I couldn't stop smiling for the rest of the day. Turns out I love scrambling.
Climbing Snowdon – despite growing up not far from Snowdonia, I had never actually climbed Wales's highest mountain, but a trip to see family offered up the perfect opportunity. Whilst the weather forecast didn't play ball (40mph gusts and low clagg) and the Llanberis Path being heaving with people, the climb is now firmly in the top 10 days I have had on a mountain as B's dad also came up the hill with us, climbing his first 'Munro height' ever and doing it brilliantly – we were both so proud of him being up to the challenge – now to get him up a hill in Scotland! We also met a gentleman who was finishing off his 7th round of the three peaks – he was an inspiration to both me and B – we might just try the challenge for ourselves!
my favourite things i watched/read
The Ray LaMontagne 'Just Passing Through' tour – B and I's first dance at our wedding was to a Ray LaMontagne song so we couldn't pass up on his Just Passing Through tour when it visited Glasgow recently – in fact it was a surprise bday present from me to B. Playing a fully acoustic set accompanied only by John Stirratt on an electric bass, Ray introduced us to his new album Part of the Light, offering up delights such as rather sexy new single Such a Simple Thing. But it was his reworking of the old (and imo slightly tired) classic, Trouble, that really lifted the roof off the SEC Armadillo – giving it a rocking bluesy ending was inspired. Ray's gigs will always be understated but that doesn't mean his music isn't sublime.
Two lovely new books by #GetOutside Champions – I was lucky enough to receive copies of two new books by fellow OS champions Sian Anna Lewis and Jen and Sim Benson. Sian's book, A Girl Outdoors is a lovely introduction to the many ways you can get outside, from wild camping to surfing. As I am going to be throwing myself into a lot of outdoor activities over the next few days I have been swotting up! Jen and Sim's The Adventurer's Guide to Britain is an invaluable guide to trails, routes, cycles and hikes across the length of Britain as well as tips on how to complete them. The section on Scotland is particularly fab -unusually this is just an add-on – but Jen and Sim have some great ideas including my favourite Pentland Hills.
The good things we ate
A foodie weekend in Fife – last month I spent a few days exploring the food on offer over the water in Fife with Welcome to Fife and 7 other foodie bloggers. I have a post on how to have a feat in Fife to come very soon (take a look at where we stayed in Fife) but it involved lunch at the fab Newport Restaurant, a brilliant new food market, and drinking lots of unusual spirits!
Lunch at Ox and Finch – after the Ray LaMontagne concert we stayed at the comfy Village Hotel on Glasgow's Clydeside and took a day off to explore the laneways and Glasgow's west end. We grabbed a last minute booking at Ox and Finch, and munched on sharing plates of beetroot & whipped feta hummus, halkidiki olives, Thai fish cakes & chips and an amazing dish of asparagus and crab which i scrapped up every last morsel. Ox and Finch serve up great value and really tasty food in a very cool atmosphere, we will be back!
Dinner at The Plough at Lupton – I may have sung the Plough's praises in its own post – but their crispy squid rings covered in pork crackling crumb and a white soy and ginger dipping sauce were the best squid rings I have EVER eaten. Bravo The Plough – you are worth a visit for these alone.
My favourite thing this month
Did you see my #GetOutside Video on BBC Scotland News Social Media? If not, I had such good fun putting it together – you can view the full video below.
My June is looking incredibly busy – I will be gallivanting around Scotland for most of it and I am looking forward to showing you what I get up to!
Love, from Scotland x
My posts this month (in case you missed them)