Hullo! How are you? Good month? Mine has been a whirlwind. Lots of walking, boating, and road tripping. I've aslo been planning loads of Scotland trips for the next few months – the East Neuk of Fife, a very exciting island hopping trip (more soon), staying in a very cute cabin in the Cairngorms, puffin hunting in Assynt, my birthday on Skye, training for a 26-mile walk in Glencoe and lots of weekend camping trips – plus we will be climbing Snowdon, the highest mountain in Wales too – and that is all in the next 3 months. I've also booked a month-long trip to Australia and New Zealand for the end of the year. I'm looking forward to climbing New Zealand's version of Ben Lomond, maybe on NYE 2018. Phew!
Thankfully, I actually enjoy trip planning as a) I am a travel blogger and b) also a planner in my day job, but it still feels hugely exciting when it all finally slots into place. Now it's all sorted I can relax and look forward to it all over the next few months. In the meantime, let's take a wee look back at what happened behind the scenes of Love, from Scotland in April.
The best things we did that I didn't tell you about
---
Climbing Ben Cleuch – With icy conditions on the Munros lasting long into spring this year and an itching desire to get out for a good hill walk we've been ticking off the lower Corbetts and Grahams instead. Maybe next year I'll out and about with my crampons! Right on our doorstep in central Scotland are the Ochils, and the highest point, Ben Cleuch which stands at 721m. We headed up the steep Mill Glen from Tillicoultry, climbing up over the Law to the summit of Ben Cleuch for an incredible view across to Gleneagles and the hills of Highland Perthshire. The path is easy to follow and the circular is about 8 miles if you also take in nearby Ben Ever. It was a fabulous last morning out in the snow!
Glencoe & Loch Ness Cruises – After taking the long way round from Edinburgh to Loch Ness through Glencoe (one of my favourite drives in Scotland) we had a great weekend which included a trip on Cruise Loch Ness's new fancy luxury boat, Spirit of Loch Ness. We were lucky to spend a couple of hours with the crew in the boat's cabin, chatting all things Loch Ness. The boat was so smooth and it was a rather relaxing way to spend an afternoon – spotting wild goats and looking out for Nessie. Being out on the loch again reminded me just how much I loved our trip on the Caledonian Canal last year – I want to do it all over again. Anyone fancy making up my crew?
New outdoor gear this month
---
After busting up my shoulder by climbing 27 Munros over the last couple of years without a proper daysack I have been on a quest to find the perfect bag for hillwalking. This month we've been testing out the new Berghaus Freeflow 25 rucksacks* on our spring hikes. Berghaus' Freeflow rucksacks have been designed with a curved back to help with breathability and airflow – the bag only touches your back at your shoulder and hip.
Climbing up to the Corrieyairack Pass (which including some energetic cross country scrambling) in pretty warm (and sweaty) spring sunshine we were really impressed – the bags really are breathable. The bags are also completely adjustable (I'm very petite!) and come with a waist belt, walking pole (or ice axe) loops, and a rain cover. Downsides? A 1.15kg the Freeflow 25 is a little heavy, but this is because the material is pretty thick and high quality which isn't a bad thing. The curve on the back means you do lose some space inside, but what you do get in the 25 is perfect for a day hike.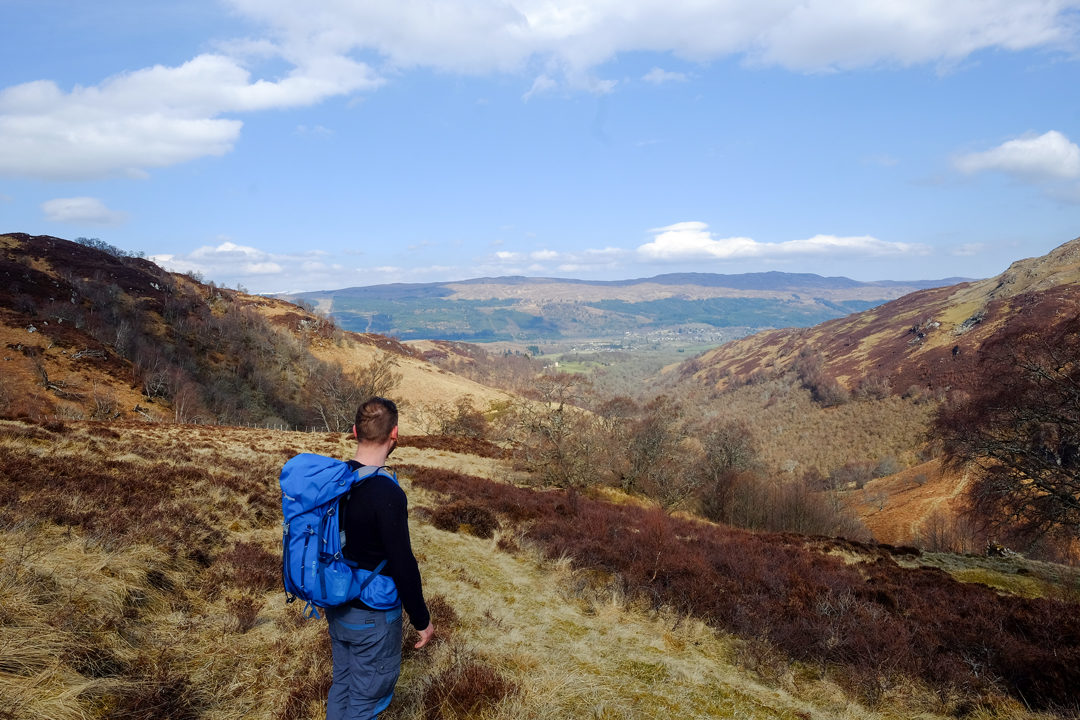 the good things we ate
---
If I had to say which of Edinburgh's hundreds of restaurants is my favourite, I'd have to say The Table. Each night two chefs (Sean & Keith) serve up a seven-course fine dining tasting menu for just 10 lucky diners – and I've been lucky enough to go three times now. I won't give away everything as the surprise menu is half the fun – but with delights such as Wagyu beef Vs Highland beef, eel and frog legs on the menu – it is hard to resist booking a seat every month.
It's great to see two young chefs doing something interesting in Edinburgh – and at £90 a seat is worth every single penny. We finished off our night out (literally) with absinthe cocktails in underground cocktail bar Nightcap – well worth hunting down if you are in town. I apologise for the amateur-ness of the photos – I was there for a good night and was snapping fast and eating!
Finally, I just wanted to thank all 12+ thousand(!!) of you who now follow me on Facebook – I can't believe so many people like my page and I am really excited to share what I get up to over the next few months. Don't follow me? Head to Love From Scotland over on Facebook.
Finally, finally, if you subscribe to LfS via email – please check your inbox for an important email regarding the GDPR!
So, on to summer – mine is shaping up very nicely. How's yours?
Love, from Scotland x
*Thanks to Simply Hike for providing B & I with our new rucksacks.