Fancy starting hillwalking in Scotland? Here are 10 Munros to climb which are suitable for beginners.
In March this year, we completed our first 10 Munros in Scotland. Since then we have firmly caught the Scottish mountain climbing bug and have climbed a further 10 more! If you are thinking of a day out in the Scottish mountains, here are 10 Munros to enjoy. 
If you are just starting your Munro bagging adventure you might like to have a look at my BBC Scotland guide to bagging a Munro for some safety tips. 
Driesh & Mayar (Cairngorms)
This pair of unremarkable Munros sit above the rather remarkable Corrie Fee, making for a memorable day out. This was our first visit to the Cairngorm Plateau in the Cairngorms National Park and one of my favourite walks in Scotland. Whilst the Munros tops themselves might be a little dull, the views of the Cairngorm plateau are utterly desolate and wide-ranging. You can really feel just how inhabited parts of Scotland really are.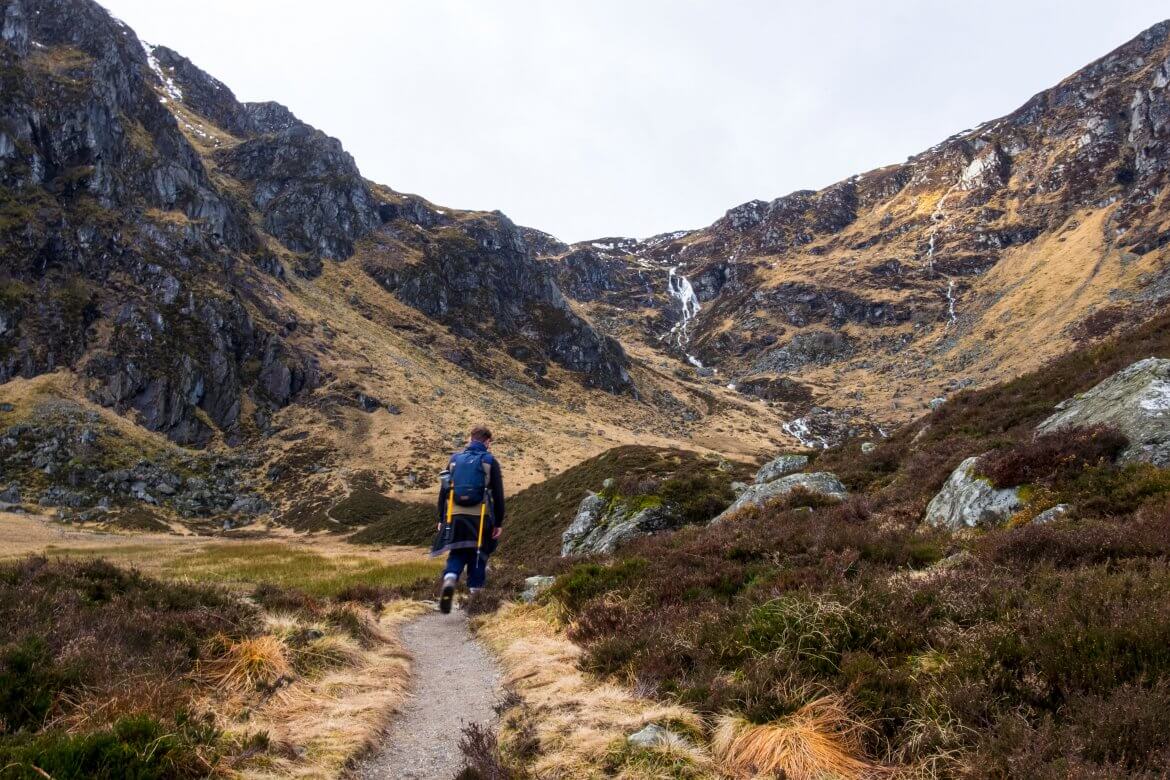 Meall Nam Tarmachan (Ben Lawers)
Gaelic for the 'Hill of the Ptarmigan', Meall Nam Tarmachan in the Ben Lawers Range above Loch Tay is probably my favourite Munro to date – although seeing it covered in snow on the most beautiful blue sky day certainly helped. After climbing Schiehallion in the snow in March, we'd be looking forward to another snow climb and our day didn't disappoint. What a day to be out in the mountains. We got so lucky.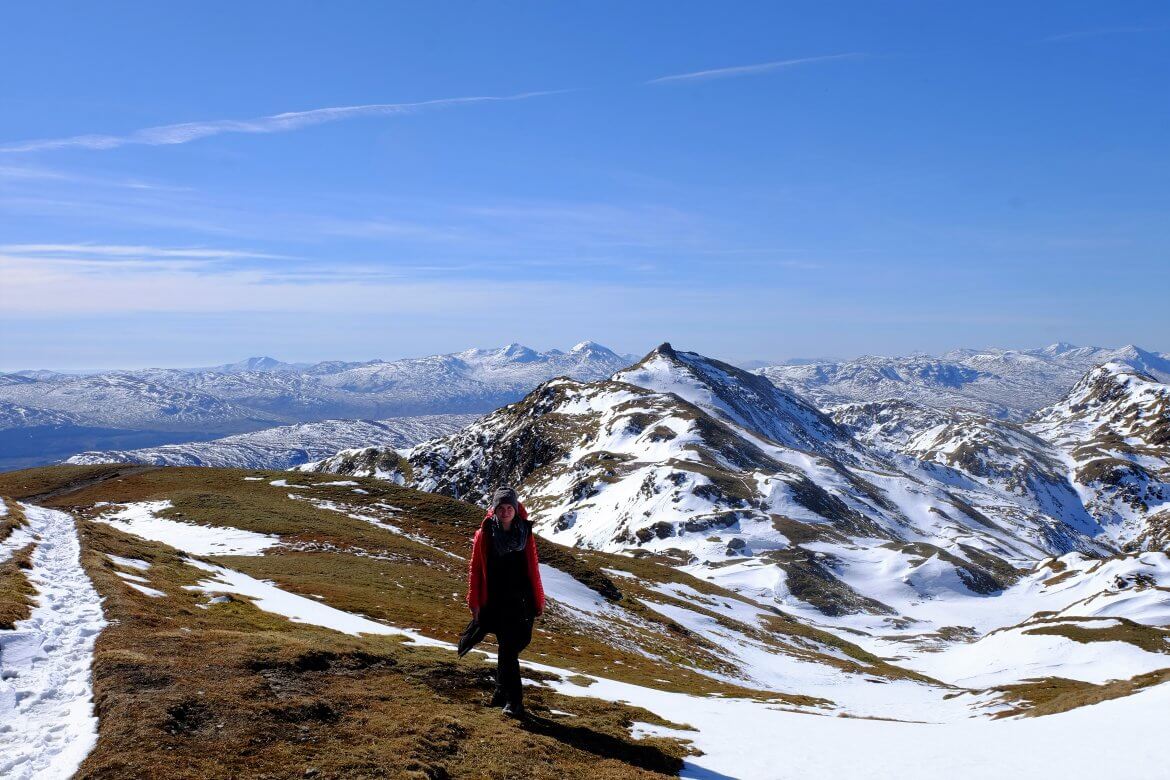 Access to Meall Nam Tarmachan is from the Ben Lawers car park and is a quick climb with very rewarding views. For a full day out take the spectacular Tarmachan ridge back down.
Ben More (Loch Lomond)
Next up we headed to Crianlarich to tackle one of Scotland's toughest hills – and the biggest hill in the Loch Lomond and Trossachs National Park. If you are a true beginner, Ben More should really come with a health warning, as these two Munros are the toughest I have climbed to date. From the roadside (and from every other hill around – in fact, it is just above my head in the distance in the Meall Nam Tarmachan photo above) Ben More is a huge cone rising above Crainlarich. The climb up the front of the Munro is relentlessly steep.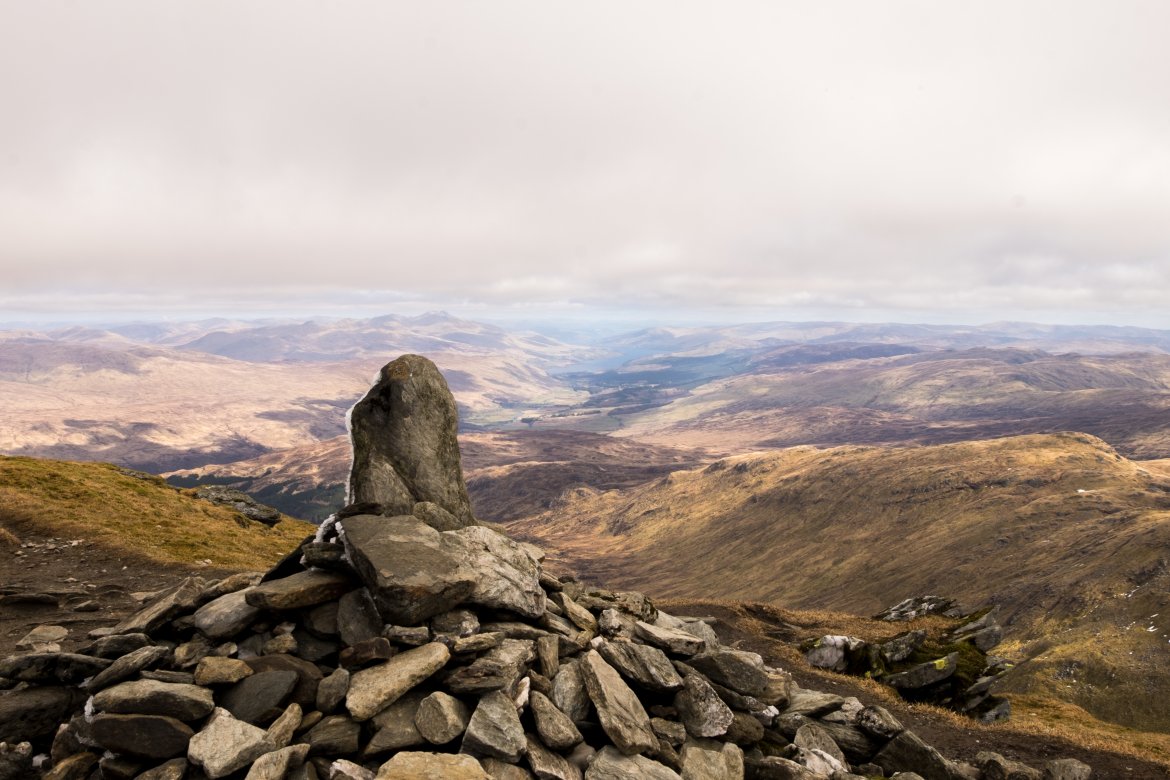 However, I must admit that we cheated slightly in climbing Ben More and climbed up the bealach between the two hills, before climbing Stob Binnein and then Ben More, heading down the front face of the mountain.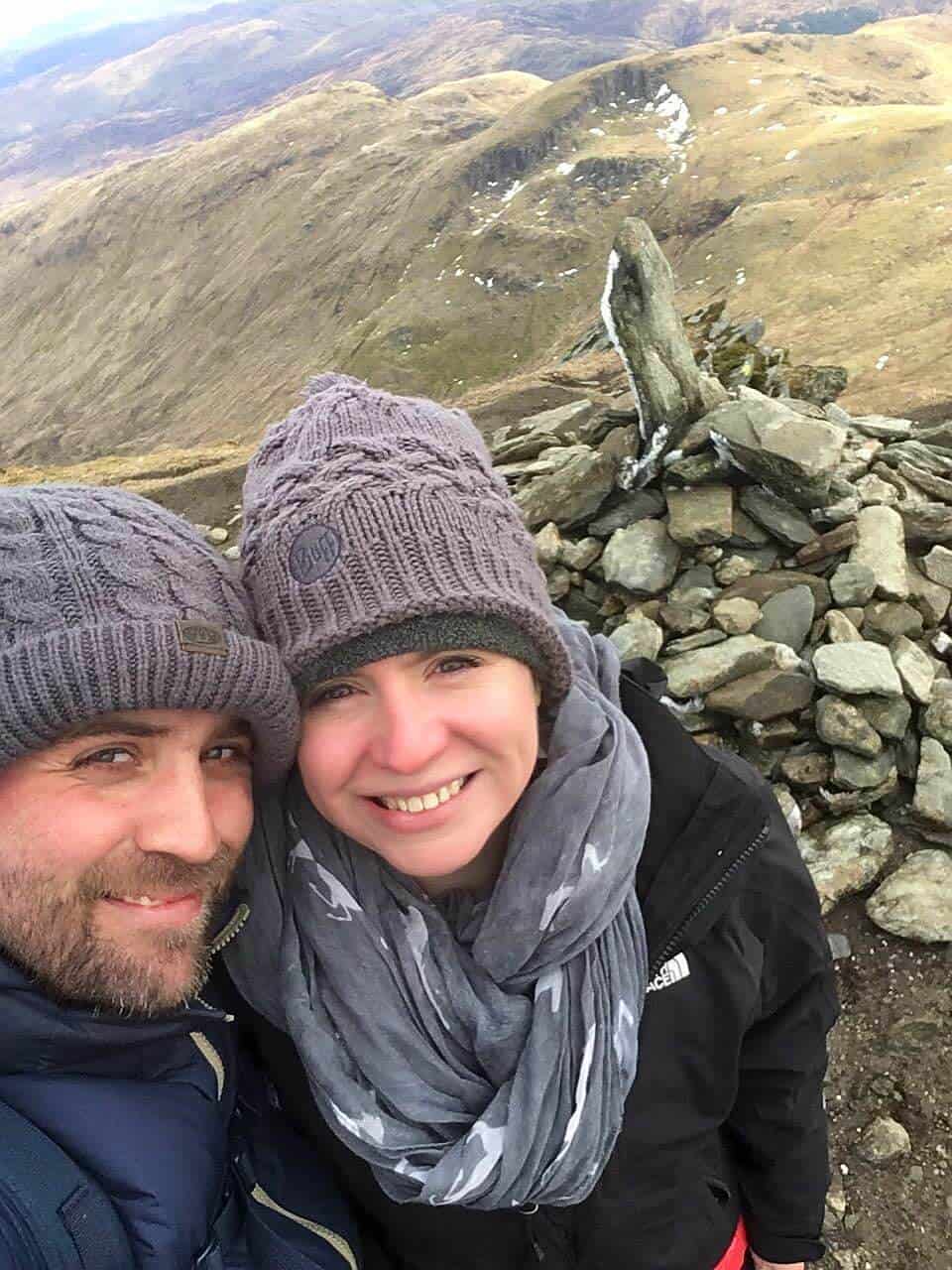 Even doing it this way my legs were agony for days and it still felt like a huge achievement – you can see the smile on my face (or is it relief?!) Ben More should never be underestimated.  
Ben More (Isle of Mull)
Last Easter we'd planned a wee road trip from Mallaig to Mull and discovering that we had more time on the island than we thought before we caught the ferry back to Oban we decided to pop up (another) Ben More.  Apart from the Cullin on Skye, Ben More is the only other island Munro in Scotland.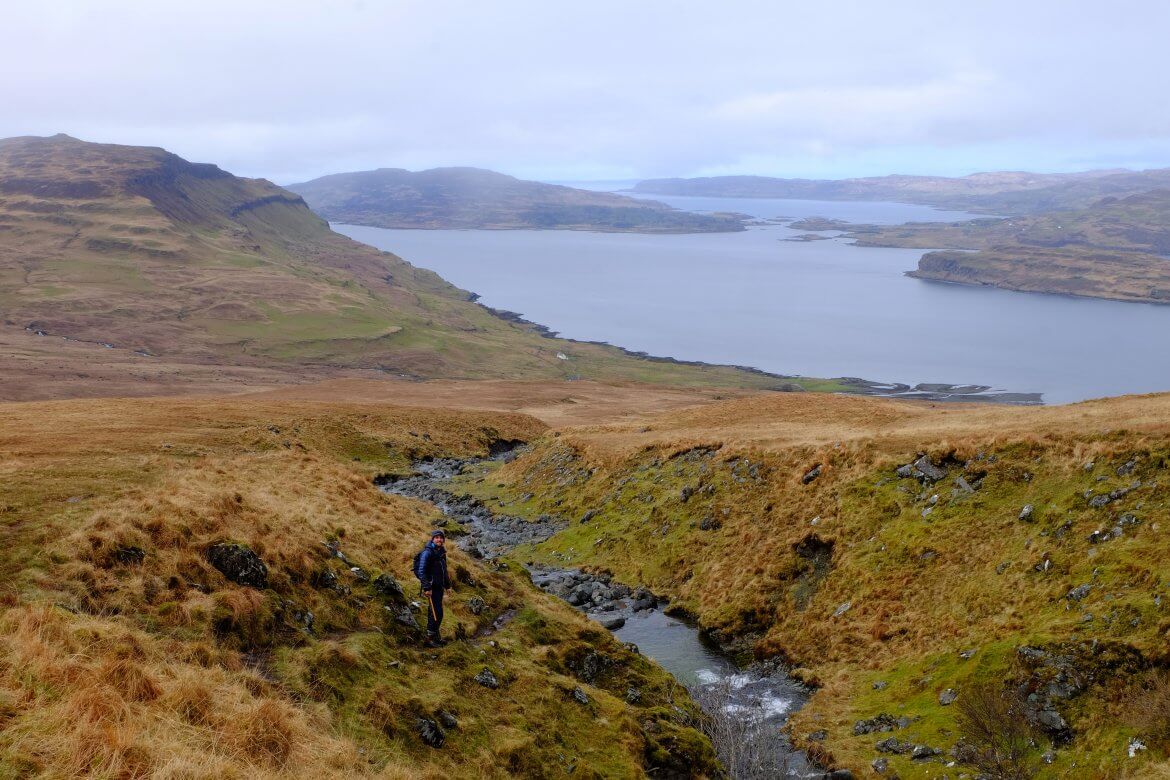 Whilst the weather was pretty good down at the roadside sadly we had LOTS of clagg at the top – and couldn't see a thing as we trudged up the scree slope. At times it felt like we were walking on the moon – and despite it being Easter it was absolutely freezing – so much that my hat had ice on it! 
Ben More is a great viewpoint even if you don't climb to the very top – the views across to the Isle of Ulva and Ben Cruachan are stunning. I think Ben More will be one to return to on a better day – and I would love to have more time to explore Mull!
Ben Tulaichean (Crianlarich) 
Living in Edinburgh, Munro bagging can mean long days out, and we've been ticking off all the Munros within a 2-hour drive – which means the Crianlarich hills are with reach. So back we went. Ben Tulaichean is the next door neighbour of Ben More – and has with spectacular views across the valley to the huge cone – that's if you can see anything!
I must be honest and tell you that our climb of these two hills will go down as my least favourite day in the hills to date – it was wet, it was miserable and it was actually hailing sideways. I also really struggled to get up this hill, and for the first time, I thought I wouldn't reach the top!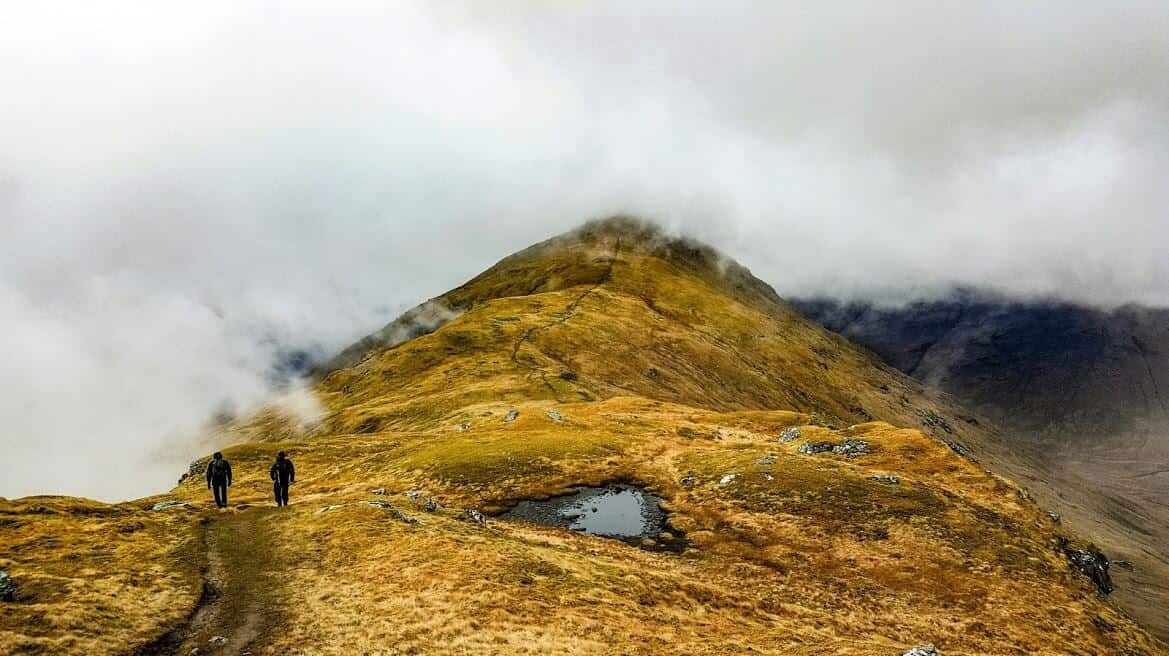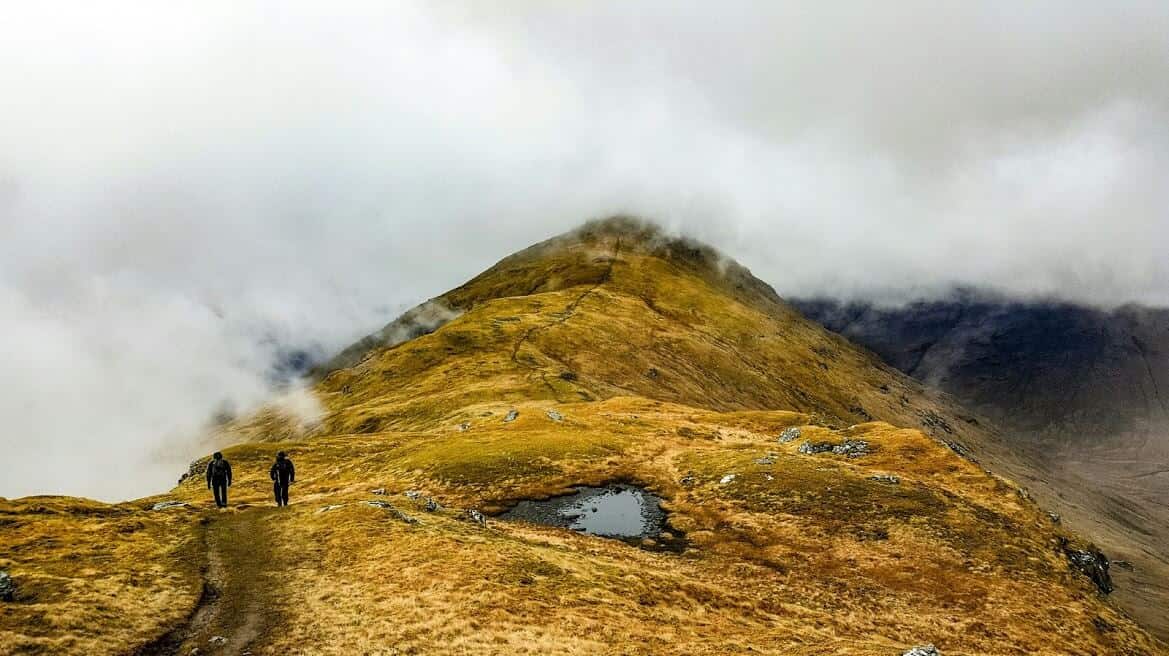 I made it though, and realised, that for every sunny blue sky stunner you will get 10 times more days like these. But then you have to take these mountain days – don't you? As if you don't have them, you will never understand just how unpredictable climbing in the Scottish mountains can be, and just how fantastic it can be on a good day… ugh but this was still one to forget! 
Meall Greigh
Close to the village of Kenmore on Loch Tay and at the western edge of the Ben Lawers Range is Meall Greigh. Often completed with neighbours An Stuc and Meall Garb, Meall Greigh is also a great single hill for a short walk.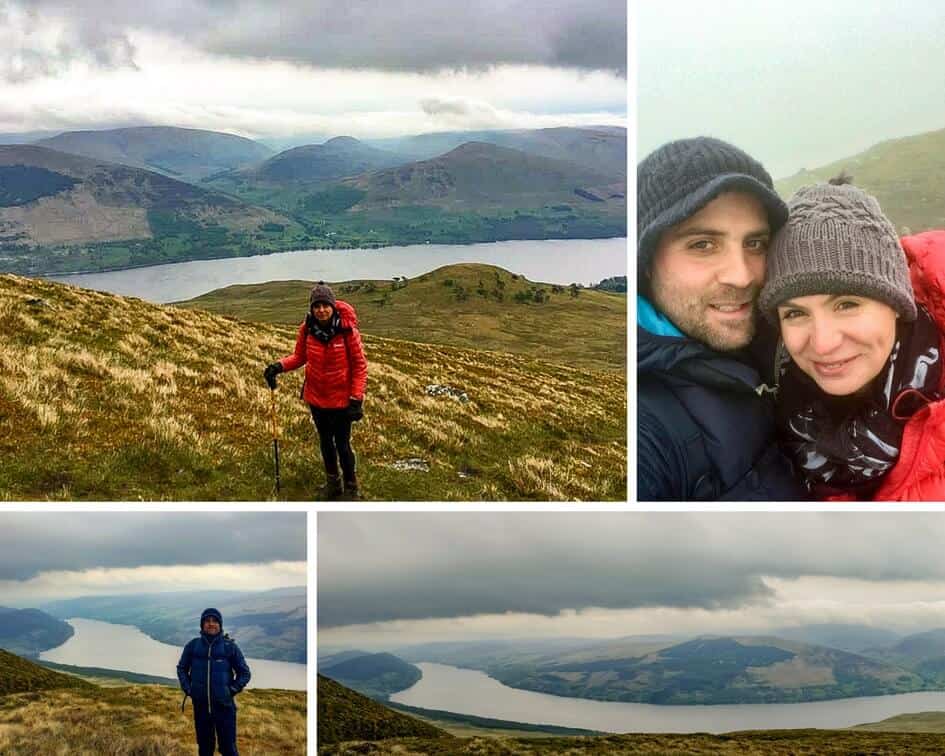 To climb Meall Greig it is best to park up at the Ben Lawers Hotel (£5 car parking donation, payable at the bar and refundable on main courses) and cut very carefully along the road to the 'bone shop', up through the woodland and then pretty much head straight up the hill.
The views across Loch Tay and Kenmore are beautiful and the view of An Stuc behind is dramatic. Sadly, on the day we climbed the clag was so thick we couldn't see a thing – although it was gone by the time we got back down, typical! We will be returning to complete the full round!
Meall Corranaich & Meall a'Choire Leith (Ben Lawers)
With a friend's spaniel looking to bag his first Munro we opted for two 'easy' hills  – Meall Corranaich & Meall a'Choire Leith at the back of the Ben Lawers range. The hills are also pretty quiet for letting a dog run around – and on the day we climbed we only saw two other people all day! This is also a short round as you start at 500m – 3 hours later and two Munros bagged we were back at the car.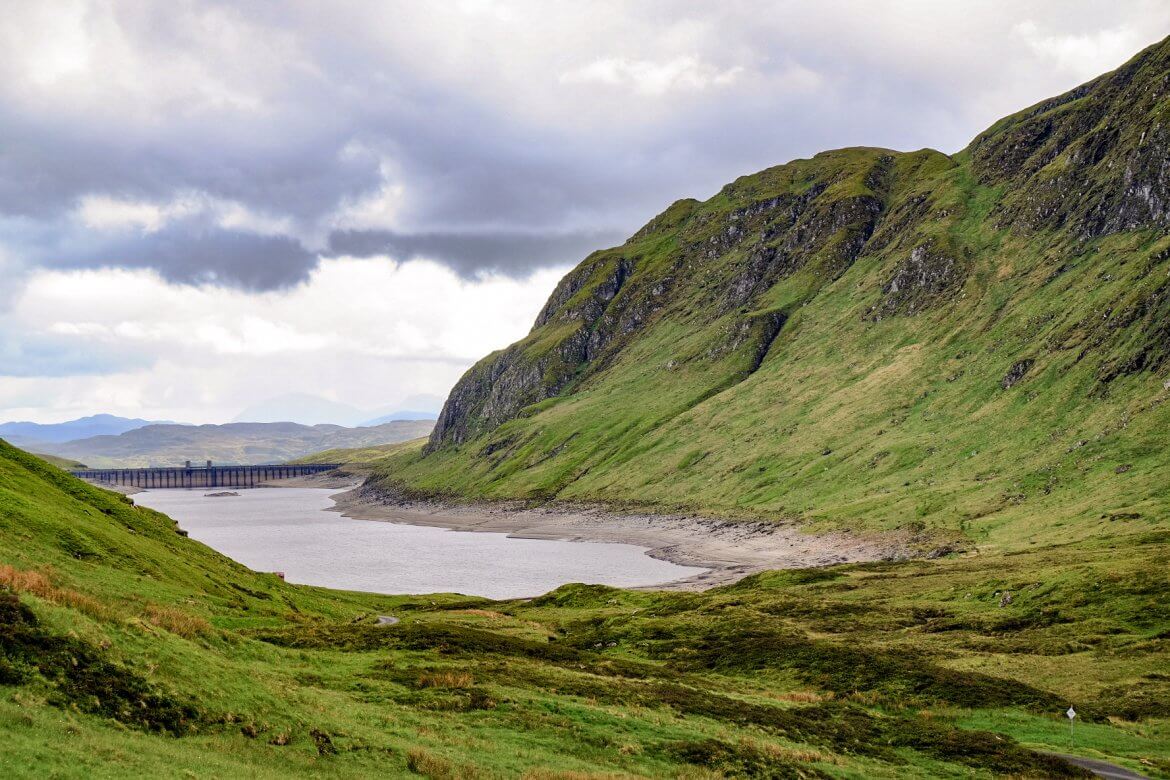 The hills give great views back over the whole Ben Lawers range and over the Lairig an Lochain mountain pass and reservoir. From the bealach (pass) between the Munros you can also watch all the other walkers trudging up the side of the big hill – Ben Lawers.
We climbed Meall Corraniach at the beginning of June and the weather was atrocious – and the ground completely sodden. Watch out for the peat bogs at the start of the walk – they are unavoidable and huge.
I've loved (most) of our mountain days to date – and must admit that I am now fully addicted to Munro bagging! Each week I now find myself scrutinising the weather forecast and avidly planning my next Scottish mountain adventure. So, it's on to my next 10 Munros – where to next?
Love, from Scotland x