The Llyn Peninsula in north-west Wales is one of my favourite places in the UK. On the edge of the Snowdonia National Park, the Llyn Peninsula has a spectacular coastline, pretty villages and probably the best beach pub in the UK.
Things to do on the Llyn Peninsula
Head straight to Porthdinllaen and the Ty Coch Inn
Porthdinllaen is a tiny backwater located almost as far out as you can get in Britain. To get there park up at Morfa Nefyn and walk along the spectacular beach until you spot my idea of heaven, the Ty Coch Inn. Don't just take my word for it, it's been voted one of the best beach bars in the world! Grab a seat on the wall, order some great local beer and sandwiches (I recommend the welsh black beef) and soak up the perfection.
Abersoch
Can you believe a remote part of north-west Wales can be fashionable? Well, head to Abersoch to mix with the sailing set; with cafe bars, regattas and music festivals throughout the year Abersoch is a very popular resort with sheltered beaches to boot. Head to Mickey's Boatyard & Beach Cafe for lunch before claiming your spot on the main beach.
Llyn Peninsula Beaches – Llanbedrog
Competing with Morfa Nefyn for my favourite beach on the peninsula, Llanbedrog beach is famous for its colourful beach huts. There is a large car park, shop and cafe and a huge stretch of sand to sit on – just hope for the weather – when we were there it was 26 degrees, who needs to go abroad!
Llyn Peninsila Walks – Climb Snowdon
Snowdon is Wales' highest mountain (and the 19th highest in the UK, all of which are Scottish Munros). There are six routes up the 1085m mountain, with the most popular being the Llanberis path. If you don't fancy climbing the mountain, you can catch the train to the top. Or instead, kayak on Llanberis lake.
Explore Portmeirion
If you watched The Prisoner you might recognise Portmeirion. The place is just as odd as the TV show. This part of North Wales can be bleak, scarred by the slate mines and nearby power station, but turn up the drive to Portmeirion and you are in another world. Candy coloured houses, with ice cream tops. Mixed vistas, pools and beautiful petals of all colours
Architect Clough Williams-Ellis designed and built Portmeirion in 1925. He wanted to shake up the attitude that "houses must be designed with due care" and that "towns may grow up by chance". He believed that you can plan and build a community without damaging the landscape. I think he achieved it. Entry to Portmeirion is £8, the village is now a charitable trust.
Where to stay on the Llyn Peninsula
Seithfed Nef means Seventh Heaven in Welsh. Seventh Heaven; the final state of eternal bliss. It is also a campsite in North Wales. However, Seithfed Nef isn't camping. It is 'glamping'.
Llyn Peninsula Camping
A bed clad in Orla Kiely. Your own huge bell tent in its own field. Prosecco and cake on arrival. Eye masks for that early morning rising thing you get with tents. Dressing gowns for the dash to the shower. A woodburning stove (which we didn't use, it was + 25 degrees all week) A firepit/bbq for cooking steaks. Plastic wine glasses. Even an actual sideboard in the tent. Then there is the milk barn in case it rains with everything you need to think you are cooking at home, including a fridge, in which you will find your breakfast.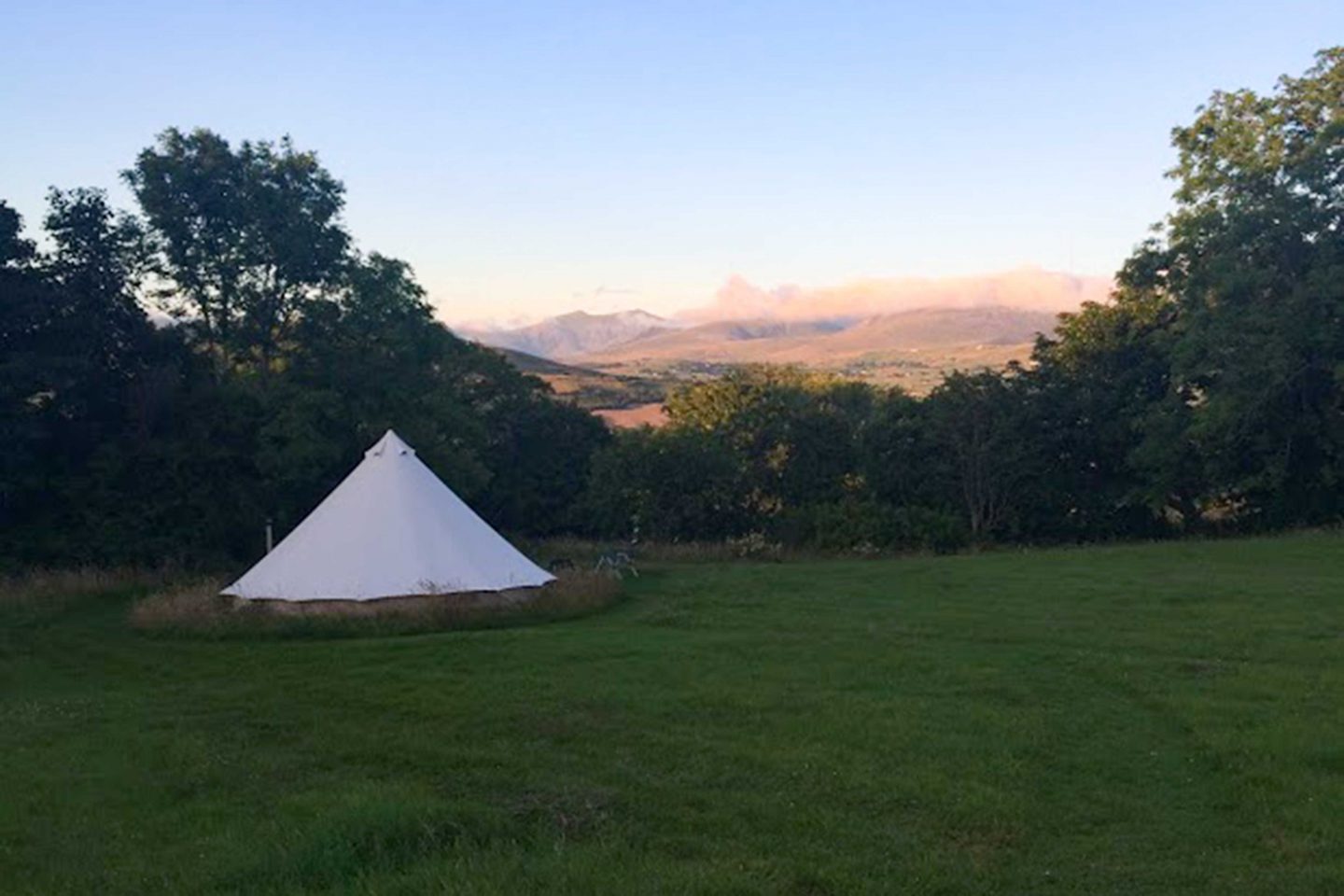 Then there are the views. That is Mount Snowdon. At sunrise. Although those eye masks are handy you don't want to miss this do you?
If you are ever on the Llyn Peninsula, well then don't stay anywhere else. I promise you, you will love it.
Love, from Scotland x