It seems a little strange to be saying 'Happy New Year' and writing my first post of 2020 well into the month of February, but here we are. It turns out that I haven't left Love from Scotland to fade quietly away, nor have I got writer's block (I'm brimming with ideas!) instead I've been rather short on time. So what have I been up to?
New year, new job…
Six months ago, I took on a big new role at work (no I am not a full-time travel blogger) which involves both creative writing and managing a massive project (basically it is my dream job) and since then work has consumed all my energy. This is no bad thing, but it has left me with little time for much else. At the end of January, the first stage of the whole shebang went live and I've been really proud to get my work out in the wild and get positive feedback on it. The project is far from finished and for the next year, at least, it will be my main focus.
New year… new home?
On top of the new job, in October we found our dream country house and had our offer accepted! This meant we had to get our Edinburgh flat on the market in just two weeks and following two weeks of viewings we accepted an offer – all right before Christmas. It feels like we've been packing ever since, but this Friday we are on our way and move out of our flat. Phew. Sadly, we haven't quite finished the paperwork on the new house, so we are moving in with family until it's all completed. Fingers crossed that next month we will be moving ourselves and the cats out of the city!
However, we've not been completely tied to packing boxes and bubble wrapping everything – here's what else we got up to in January.
[AD] Back to the beautiful Birdwatchers Cabin, Sutherland
This month saw our second visit to the Birdwatcher's Cabin near Golspie. Owned by the lovely Lizzie & BoBan, it is a seriously cool and luxury stop on the North Coast 500 and one of our favourite places to stay in Scotland.
We were staying in the cabin to try out their new treat – a 'spa in a cabin'. We tried reiki and had massages and facials as the sun went down over the loch – and were treated to the best sunset we've seen in a long time. Fancy a massage in your own cool & cosy hut overlooking a gorgeous loch? I suggest booking the Birdwatchers before everyone else finds out about it… It is utterly blissful.
Whilst we were at Golspie we also took a stroll up the gorgeous Big Burn, wandered along the shores of Loch Fleet and ate an incredible BBQ at Mac & Wild at the Falls of Shin. We came away from the weekend all kinds of relaxed, refreshed and ready to take on the house move.
A week hidden away in the depths of Derbyshire
I grew in the hills close to the Peak District/Derbyshire border and whilst Scotland is where I live, I still adore 'home'. We spent a quiet New Year and the first week of January at my parent's house eating all the food and checking in on all my favourite Peak District walks – visiting Macclesfield Forest, climbing Chrome Hill under beautiful blue skies (it was still freezing) and visiting the dramatic Lud's Church – a large cleft in the rock high up on a hillside – before popping into the lovey Wincle Brewery. It was a lovely start to the year.
Exploring The Ochills
This winter has been dire for hill-walking. Wet, windy and generally grim so we've been forgoing the Munro bagging for smaller hills. The Ochills are just on Edinburgh's doorstep – and the largest, Ben Cleuch – is one of my recommended beginner's hills. Instead, we headed to the far east of the range to Glen Sheerup just off Glendevon to climb the knobbly Ben Shee after a circuit of the glen. One to come back to on a nicer day – the views across to Fife, when we could see them, were superb.
Loch an Eilein (and breakfast at the Mountain Café)
On those days I really need an escape (and this month there was a few, moving house is incredibly stressful) one of my favourite wee walks in Scotland is the path around Loch an Eilein in the Rothiemurcus Estate in the Cairngorms National Park. The 4.5-mile walking and cycling path takes you right around the loch past the ruins of a castle in the middle of the loch built by the grandson of Robert the Bruce, Alexander Stewart, known as the Wolf of Badenoch. After the walk we headed for a huge brunch at The Mountain Café in Aviemore – you have to try the veggie sausage, its amazing.
Love, from Scotland elsewhere
I've been a couple of other places this month…
My first magazine cover! This month saw my photo (of the Bunnet Stane in Fife) used on the front cover of Scottish Field. It is quite surreal to see myself in print – and rather lovely. You can order your copy online, or grab the magazine in the shops!
Fancy a valentine's day stroll? Check out my suggestion to where to get outside (hint it is in Scotland) in the Ordnance Survey Get Outside champions guide to the best romantic walks in the UK.
So what have you been up to this month?
Love, from Scotland x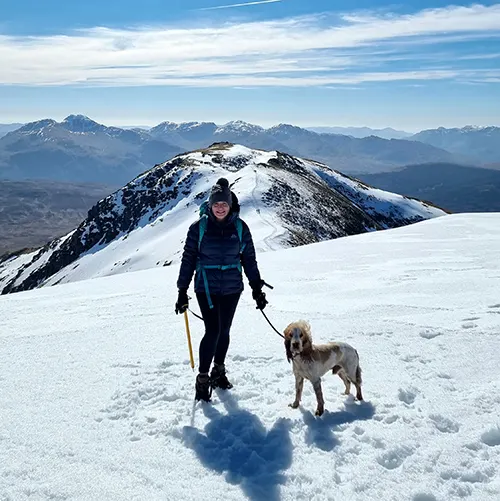 I'm Kate – a travel writer and photographer living in Scotland. Love, From Scotland is the Scotland travel guide that shows you where to stay and how to get outside in Scotland.