This weekend it dawned on me, I am a Munro Bagger. No longer am I 'thinking about climbing a Munro', I'm not discussing when, or saying that 'sometime next month we might do a Munro', but instead I'm all, ''this weekend? Yep! Which one shall we do?'… and then I am actually getting out there and bagging Munros.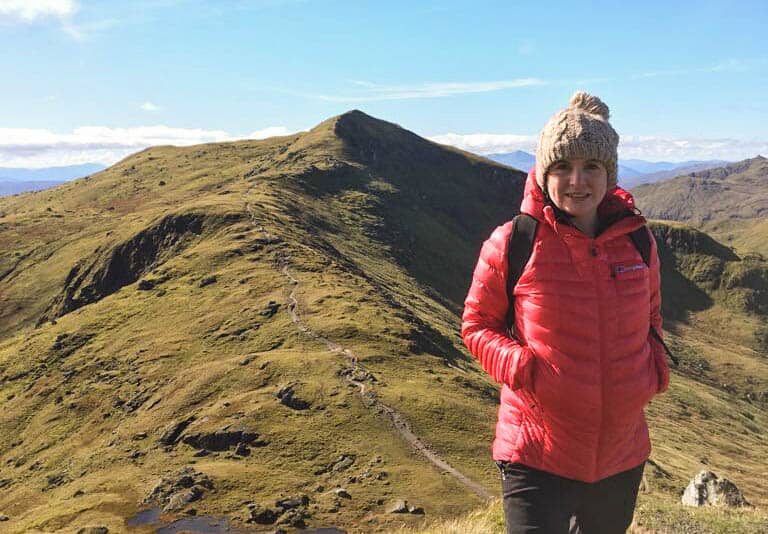 This is a Munro, a Scottish Mountain over 3000ft (914m).
I must admit that until a few months ago, I was the definitive stuck in a rut late-30-something. My fitness was through the floor and physically and mentally I was tired.
I wasn't sure what to do about it – exercise was the obvious solution, but I'd never enjoyed the gym, it turns out I'm hopeless at following a leader (you would call my dancing 'free spirited') and team sports just aren't my bag. I'd tried Pilates, body balance, and yoga, but got bored.
Instead, I decided I needed a real challenge. I needed something to really push me, to drag me out of a lazy, wine drinking, descent into middle age. So we decided to climb a Munro – Ben Vorlich at Loch Earn – which turned out to be 985m of pure mountain climbing pain. 
I survived. Obviously. Although I really wasn't sure I could do it, until I well, I did it. 
After Vorlich, I wrote a Beginners Guide to Climbing a Munro and looking back at that post, my love of that first Munro really shines through. The Mountains! Scenery! Scotland!
OK, there was a lot of pain, there was lots of 'oh my god I can't do this' but I found I was just itching to do it all over again.  So we did. We climbed Ben Lomond in 25-degree heat. I had the biggest smile on my face the whole time.
It turns out that I love climbing mountains. Who knew?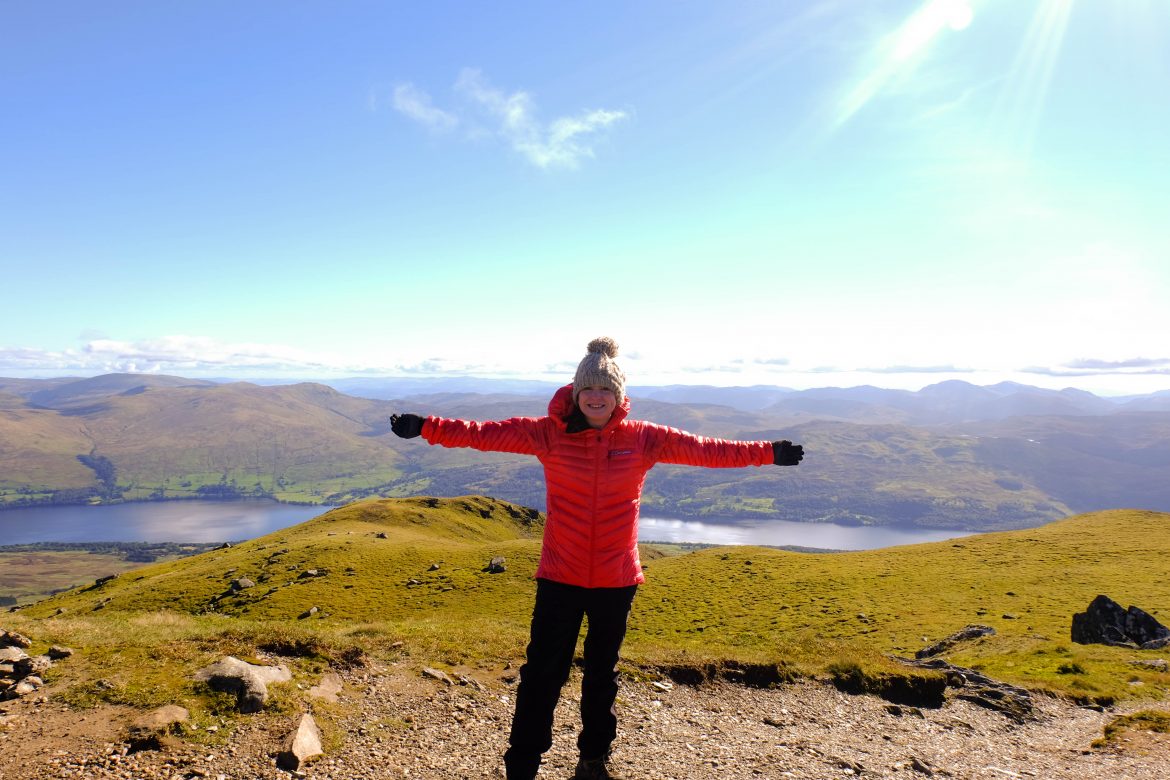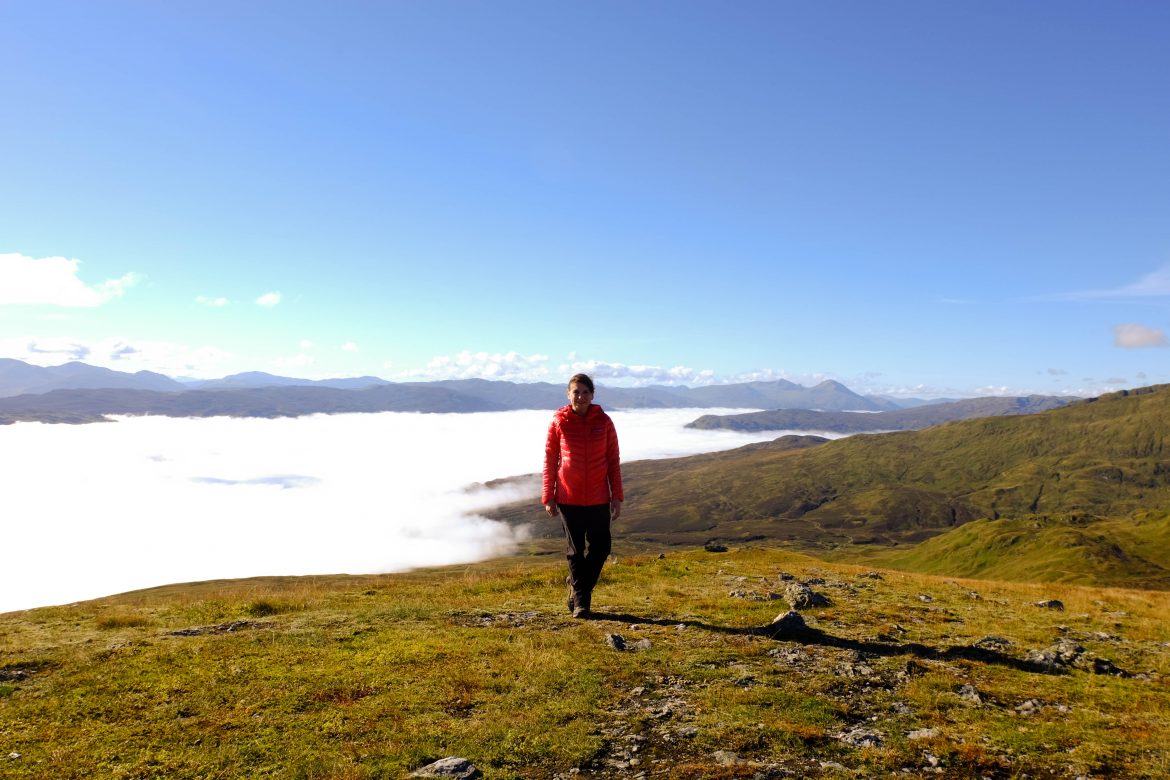 Last weekend we took on our next challenge – to climb two Munros in one day.
We chose Beinn Ghlass (1103m) and Ben Lawers (1214m) in Perthshire, which seemed the 'easiest' way of bagging two Munros at once – you start you start from the National Trust for Scotland car park at 400m, before popping over the smaller Beinn Ghlas and then climbing up to Ben Lawers, the UK's 10th highest mountain.
After leaving Loch Tay behind, the walk starts in Ben Lawers Nature Reserve. The Loch and car park was covered in cloud when we arrived at 10am and ascending out of the cloud inversion we didn't hit bright sunshine at about 600m. By this point I was walking in just a gym top!
However, it was October and at around 1000m, the wind really started to pick up and I was rather thankful for the cosy comfort of my new Extrem Micro Down Jacket c/o Berghaus. The jacket fitted me like a glove, and it kept me cool and snug in the almost alpine air.
As Scottish mountains rarely look like this, I can't stress it enough that a coat, clothing & boots designed for the conditions are essential. The clouds can descend in seconds and rain is always on the horizon.
The day before we got caught in an un-forecasted downpour (what, in Scotland?) and thankfully, the jacket's water-repellent which has been built into the insulated hydrodown by UK outdoor company Nikwax really did stand up to the task.  Thanks Berghaus and Nikwax!
But back to the mountains…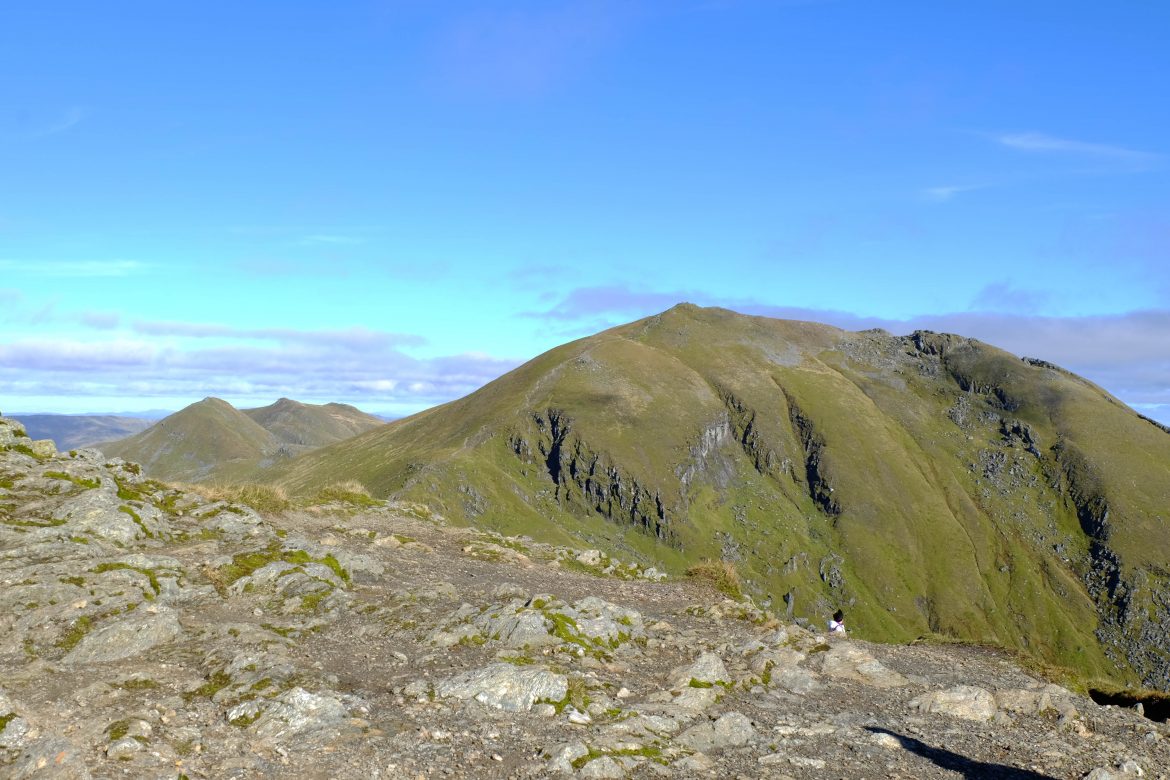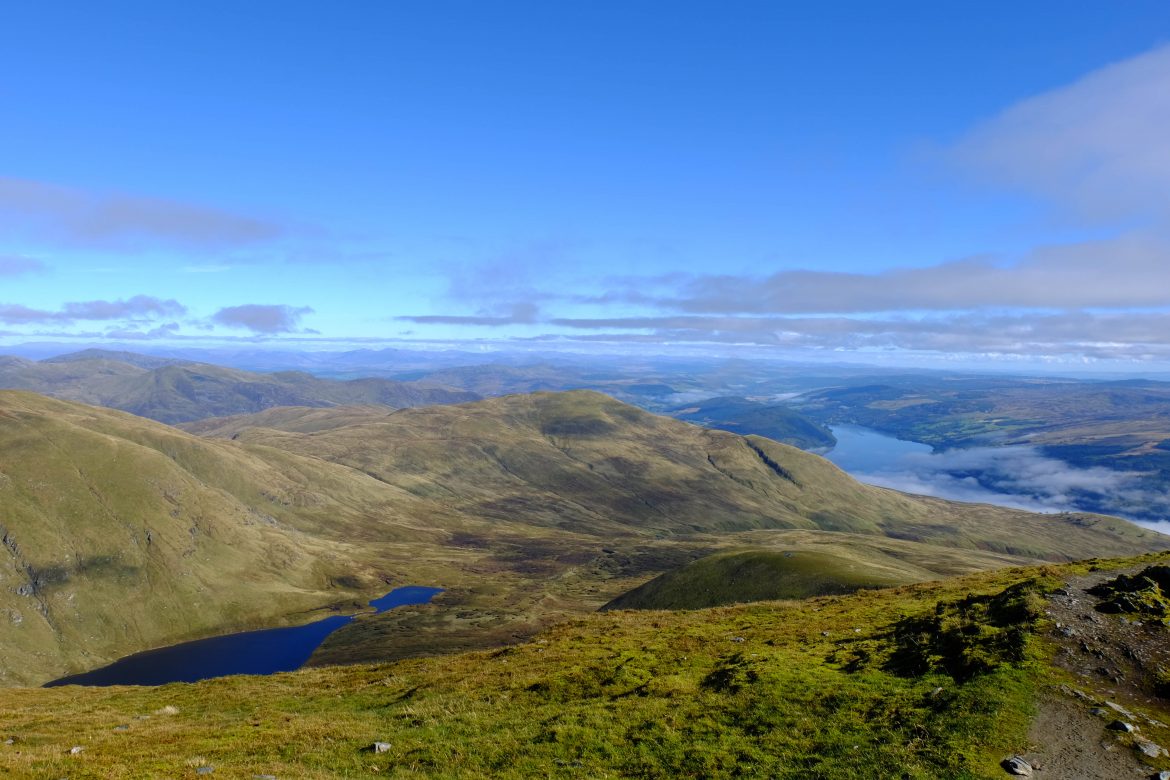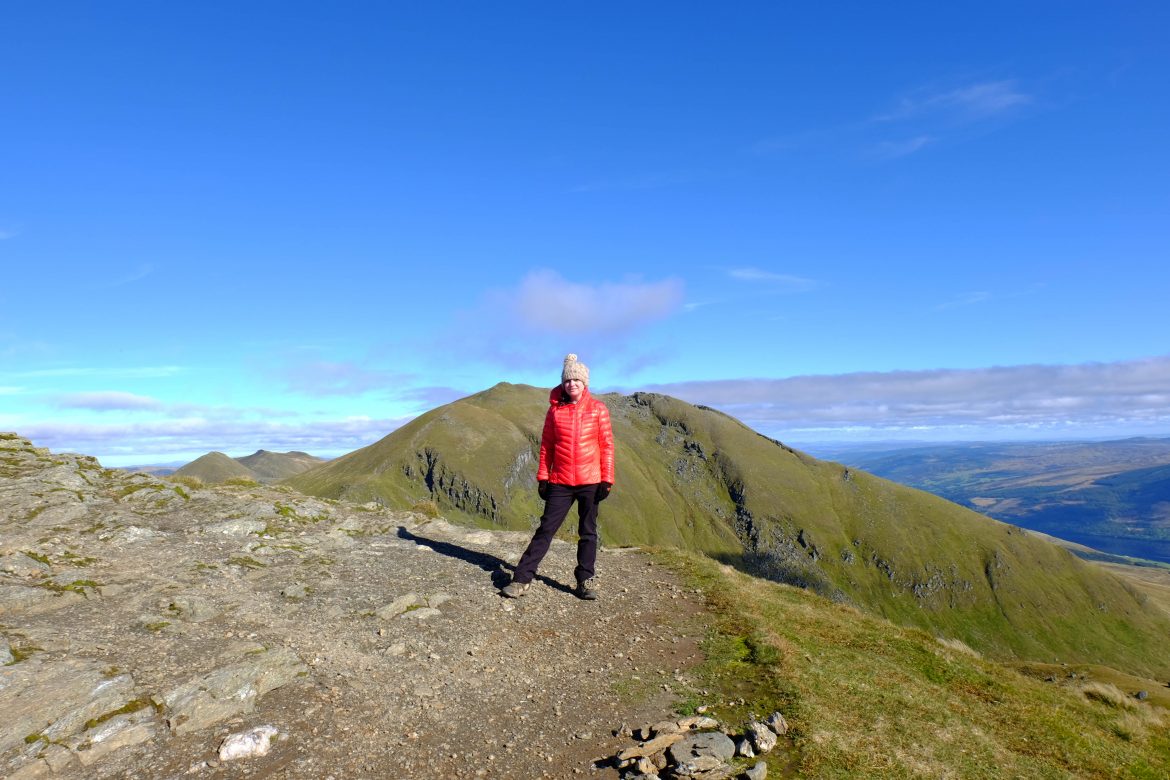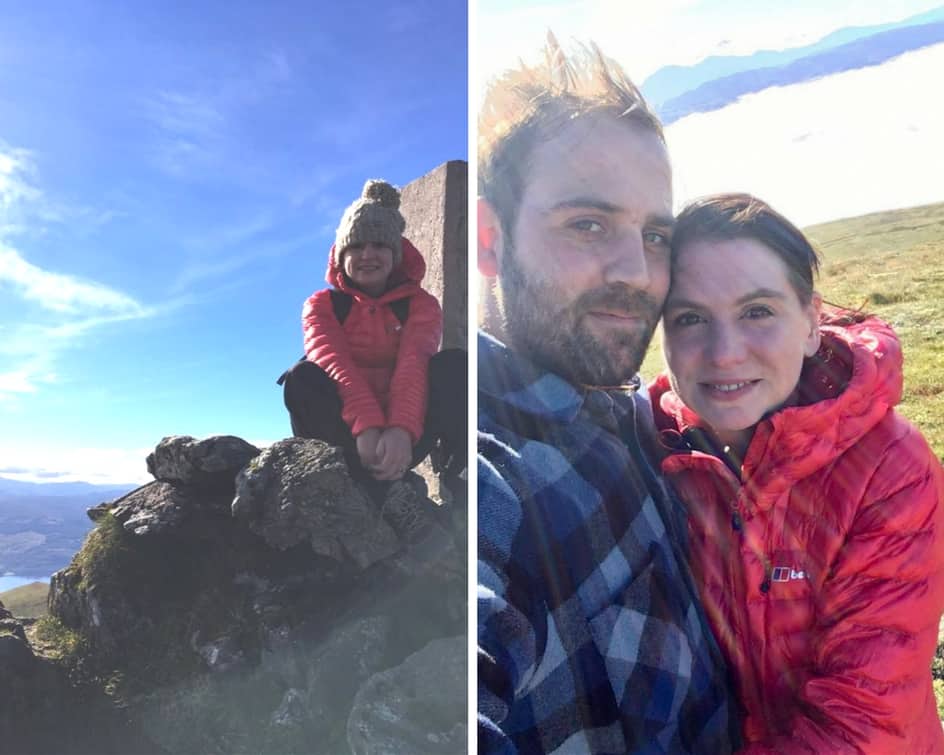 Whilst no Munro climb is 'easy', we found the climb on the very well maintained National Trust for Scotland path really good going and we got up and down (including doing Beinn Ghlas twice!) in 4 hours rather than the predicted 5-6. It did help that the weather was stunning!
We've obviously got a long way to go with this bagging Munros task, as after this weekend there are still 278 Munros left on the list! At this rate it will take me 70 years; I'll need to up my rate to 28 a year just to get through them all.
So, instead of reaching for the mythical compleated target, I have decided that next Spring we are going to climb Ben Nevis, the UKs highest mountain. As I am a glutton for punishment I also plan to climb Nevis after walking the 96 miles  (154km) West Highland Way. Gulp.
So it is training time. Next up we are heading to the mythical Glencoe and climbing either Buachaaille Etive Mor, or Beag depending on the weather, and then in February we are going to attempt a winter ascent of Ben Chonzie. Never tell me I don't have a plan for punishment!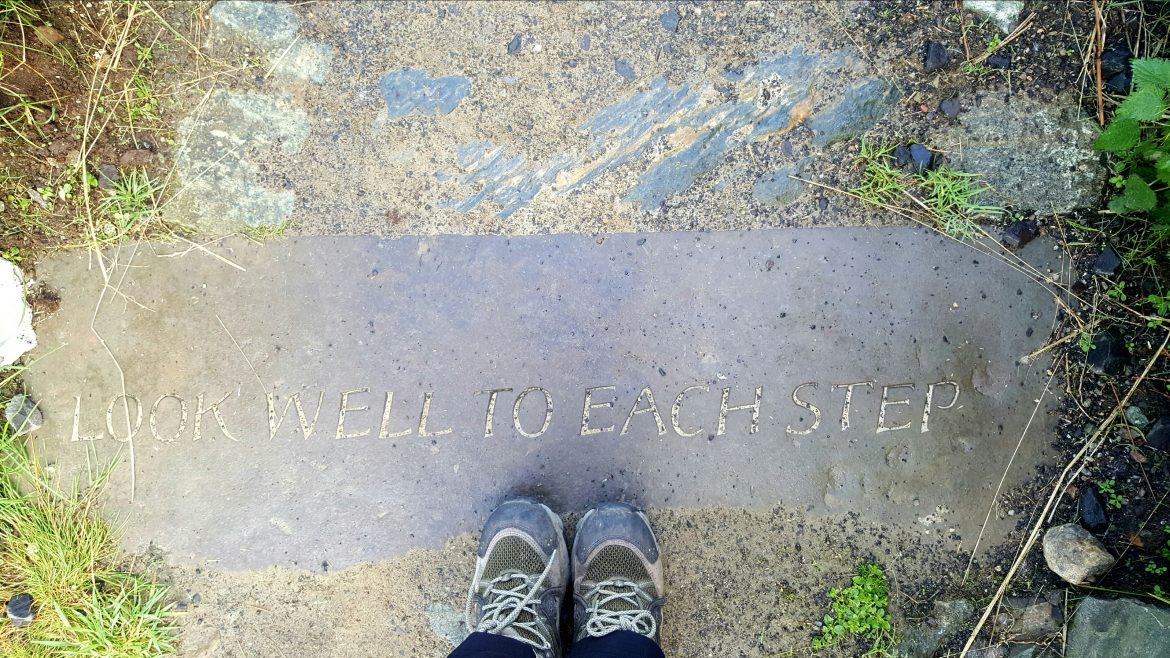 Love from, Scotland x
Our walk was Ben Lawers via Walk Highlands.
Plan for 4 hours+ as we had a pretty good stomp on us and the weather was really on our side!